Critics Rating: 4.0 / 5
Story: Pushpa Raj is a doorman who grew up in the world of red sandalwood smuggling. Along the way, he's not shy about making an enemy or two.
Review: With Pushpa: The Rise, Sukumar ventures into uncharted territory by making a rustic masala film filled with punchy dialogue, characters speaking in a Chittor dialect, and a story deeply rooted in the region in which it takes place. Seeing how expectations were sky high after Rangasthalam, it turns out that what he delivered was a very long mix, stumbling at times and delivering what he promised to others.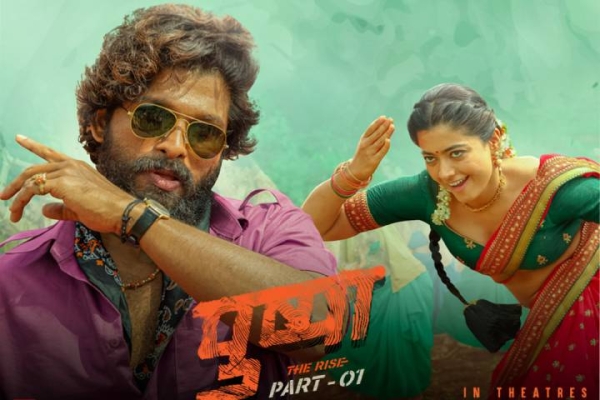 Pushpa Raj (Allu Arjun) is one of the many thugs in Seshachalam who illegally cut red sandalwood and sell it by the kilogram to the powers that be. In a guild made up of many players, Pushpa slowly learns to find a foothold and rise through the ranks until the man who once failed these trees becomes the one calling the shots. However, his Achilles heel is not a lady who loves Srivali i.e Rashmika Mandana, or the big wigs Kunda Reddy (Ajay Ghosh), Julie Reddy (Dhananjay), Mangalam Srinu (Sunil) and his wife Dakshyani (Anasuya Paradwaj). . It is the fact that his brother (Ajay) does not allow him to claim his lineage, something that takes Pushpa from zero to one hundred in a very short time and often becomes the cause of the loss of this laid-back, sarcastic, arrogant and even funny man. his calm; Once he gets to where he wants to be in life, IPS Bhanwar Singh Shekawat (Fahadh Faasil) appears threatening to overthrow Pushpa's carefully constructed system.
Pushpa: The Rise is backed by a story often explored on film: the rise of the underdog. So Sukumar doesn't really have anything new to explore here. New is the way he chose to expand the story and spend time preparing Pushpa's character for a full three-hour movie, before getting into the thick of things. And this action may not appeal to everyone because, for all the fuss, that's basically what this movie is about. Pushpa may have made enemies for many people, but none of them seem to match his endless nature from a distance, that is, until Chikawat comes to town. Sukumar's movie works well when he sticks to the story at hand and focuses on the finer details of the Red Sanders smuggling, the Pushpa break-in, etc. Where the film falters as it tries to pull off a weird (and troubled) romance between him and Srivali, this doesn't always work out or even add up to the larger story at hand. Sure, Pushpa has a chance to be his shining knight armor, but he seems to move the story in the direction he would have gone anyway. Also, the final confrontation between Pushpa and Shekawat did not have the desired effect, as he appeared quickly and the latter's character looked disappointing.
Also frustrating are the sound effects, art direction, editing, and sound design in some scenes. The Pushpa: The Rise team made no secret of the fact that they had to hurry to get the movie out on time and show through the cracks. Given the seemingly unwarranted uptime, technical vulnerabilities make the flaws even more obvious. Where Pushpa: The Rise shines when it comes to direction, cinematography, fashion, and music most of the time. Sure, Devi Sri Prasad's BGM can seem frustrating at times, but her music more than makes up for it by blending well into the story. Cinematographer Mirosław Kuba Brożek and director Sukumar seem to have found the perfect rhythm for this film and complement each other's work. Pushpa's character outfits change depending on his place in this world. The supporting cast also gets a chance to shine, though they sometimes play characters that are nothing more than cookie cutters. Rashmika also seems out of place in a high-testosterone movie. Anasuya, on the other hand, has a scene with Sunil that proves that she is fit for this world. Samantha's veil in Oo Antava Oo Oo Antava hisses, which surprises no one.
After all is said and done, Pushpa: The Rise is Allu Arjun's show to the end. He shines as this rustic character who is tough in the face but vulnerable in ways others don't. Allu Arjun fans may be happy to see him briefly shake his leg with numbers like Saami Saami and Eyy Bidda Idhi Naa Adda, but he really shines when he's in a power struggle, with Peter Hein and Ram-Laxman engineering some incredible action sequences. or when he just shrugs off being called coolie ode Constantly because he knows he's too good for any other stereotype of him. He also gets a chance to show his acting skills, no matter what tone he has worked hard on, when he uploads a great movie like this, sometimes he makes you laugh.
Pushpa: The Rise from Sukumar shows promise as it wraps up and sets things up for Pushpa 2. Although the film is a mixed bag, it leaves you curious as to what will happen next. Just to see if Fahd and Allu Arjun light up the screen.
Read More - Gehraiyaan: Deepika steers Shakun Batra's complex love drama remarkably