Bhojpuri Cinema's favorite couple Nidhi Jha and actor Yash Kumar made their relationship official through dating. The two got engaged on February 11 and entered their new home. In such a situation, now after the engagement, they both went to film their next films and from the shooting location, the actress shared a video with her Fiance Yash Kumar, in which the film is shown. South Indian Movie 'Pushpa' can be seen and she is going up.
In fact, Nidhi Jha shared a video on her Instagram account with her fiance Yash Kumar. From this it is clear that they are both transcribing Allu Arjun and Rashmika Mandanna and their famous dialogue 'अच्छा लगा ना मैं… तू क्यों अच्छा लगेगा… तो तू मुझे देखकर हंस क्यों रही थी? मैं तुझे देख नहीं रही थी ना तो तू इसलिए काउरा बाउरा हो रहा था…' seen talking. People made a lot of videos on the reel of this famous Pushpa dialogue. In Nidhi and Yash's video, the actor is seen imitating Allu Arjun in Lungi and a grown beard in a T-shirt and the actress Nidhi appeared to be a rustic married woman. They both look so cute in this dress. People love him very much. The video of the Bhojpuri actors got more than 16 thousand likes in a short time until the news was written.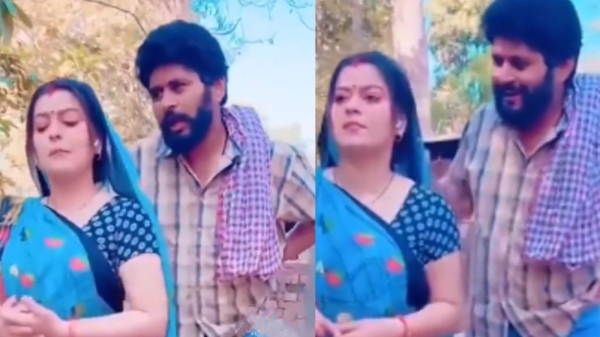 People made these comments.
Meanwhile, sharing the video, Nidhi wrote, "Finally Nemo is ready to make a video." After seeing this video of him, people commented a lot. One wrote: "Wow Re Bhojpuri's Allu Arjun." The other wrote: "Wow our beauty in Bhojpuri Srivalli and Pushpa." Another wrote: "Hold on while you watch." Fans really enjoy the video of him. They are told that they both exactly copied Allu Arjun and Rashmika Mandanna.
Yash and Nidi have been together for 8 years.
Let us tell you that Nidhi Jha and Yash Kumar have been together for 8 years. Initially, he spent the first 5 years in friendship and then lived in a relationship for 3 years. After living together for 8 years, they are now getting married. They both decided to get married a year ago, but due to the Corona epidemic, their marriage continued to be postponed and they were also waiting to build their dream house. In such a case, now is the time for the final decision on their marriage, although the date of their marriage has not been revealed yet. Regarding the wedding date, the actress said, "If everything goes well, she will also announce it soon."
Read More - Take A Look At The Youngest Bollywood Actresses