Yeh Rishta Kya Kehlata Hai today's episode starts in Goenka Villa Kairav enters the house and shouts happily calling family members and he returns. Vansh feels do happy after hearing Kairav's voice and asks the servant to take him to Kairav. Swarna comes in hurry and overwhelmed seeing Kairav she becomes emotional and expresses her love hugs Kairav and says I missed you a lot, then Kirti and Krish come and overjoys.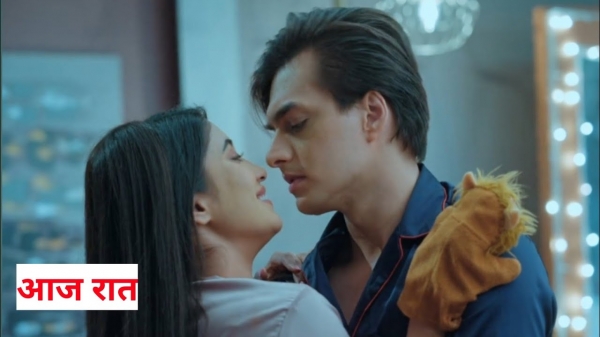 Pic-Credit: Youtube.com
Swarna went to meet Karthik and Naira as they are standing outside, Swarna says I'm not always going to welcome Aarti this is your home you can come and go whenever you wish on which Manish reciprocates they are allowed to come anytime but they cannot go with their wish. Swarna hugs Karthik Naira and says. Isn't you heard what you day say if you step in this time in the house don't ever try to go? Then Swarna holds Karthik Naira's hands and takes them inside the house. Kaira and Children get a warm welcome with aarti, and a song started 'Ke panchi bichde the apne hi ghar aunde se magar, bahare ayyi hai phir se dekho aaye laut kar, phir se gulshan mehakega, phir se panchi chahake ge, phir jhumkar dil yun gaata hai, Yeh Rishta Kya Kehlata Hai…., Yeh Rishta Kya Kehlata Hai….


At moment Luv Kush comes and meets Karthik Naira and says they missed them a lot and use to feel so alone without them, they dance and celebrates Kaira returns home, Krishna becomes too emotional while meeting Karthik and Naira. Vansh comes there apologies and meets everyone. Meanwhile, Gayu takes Vansh from there as she doesn't want Vansh to meet Kairav.


Then Naira went to Gayu's room to solve the misunderstanding she has for her. Where Gayu asks her to leave also says that they should go away from the house otherwise she will leave the house, whether they have booked return tickets or not, but I was prepared before as I know it will happen someday so she already booked her and her children tickets and leave from there.


After that Dadi spent time with Karthik, Naira Akshu, and Kairav. Manish says as soon as Dadi's healths get deteriorate, it also gets recover on which Dadi reciprocates because her medicine is magical as her medicine is her children return home back. She takes a promise from Karthik Naira by saying if they go back to Mumbai she will die, on which Karthik and Naira feel so bad and gives a promise to Dadi that they will not go back to Mumbai.


Later at night, Kairav says he wants to sleep with Naira as they haven't slept together for long, at moment Manish and Swarna reach there and say they want to sleep with Kairav on the same Naira says to Kairav today sleep with your Grandparents tomorrow we will sleep together. At night Naira and Karthik spend romantic moments together.

Also see - Bigg Boss Season 14: BB14 All Contestants and Salary Per Week


In the next episode of Yeh Rishta Kya Kehlata Hai, we will see Manish will say something about their business and also that they did wrong in giving entire responsibility to Samarth on which Karthik will reciprocate the only mistake we made is we were not activated. Naira thinks in her heart that anyhow she has to solve her family she cannot let it apart this way.
For all the updates of
Yeh Rishta Kya Kehlata Hai
before TV do follow "
ALL DAT MATTERZ
"
Pic-credit- Hostar.com