Today's episode of Yeh Rishta Kya Kehlata hai starts in the jungle where Kairav is in danger and he is scared of Ridhima. He continuously screams for Kartik and Naira and running towards a dangerous deep lake. And Ridhima, Kartik, and Naira are behind him and ask him to stop.
After a while, Ridhima, Kartik, Naira reaches there and Ridhima saves Kairav from falling into the deep lake, and unknowingly she falls into the deep lake. Karthik tells Naira that Ridhima doesn't know how to swim she jumps into Lake and saves Ridhima's life.

Read More- Bigg Boss Season 14: BB14 All Contestants and Salary Per Week
Karthik, Naira confronts Ridhima that she is aware of the pain of losing a child then also she is trying to snatch a child from a mother do you know the difference between a mother and another woman, mother knows to bear a pain not giving 'Khone ka dard samjhti hai, phir bhi ek maa se uska baccha chinne jaa rhi thi, ek Maa aur dusri aurat mein kya faraq hota hai ye ap jaanti hai, ek maa dard sehna janti hai dena nahi'. I know you have lost your child and in every child, you imagine your son, but Riddhima rather than snatching a child from a mother adopts a child from the orphanage where children need mother love and you will get a child without hurt a child and mother. Later, they console Ridhima hugs each other.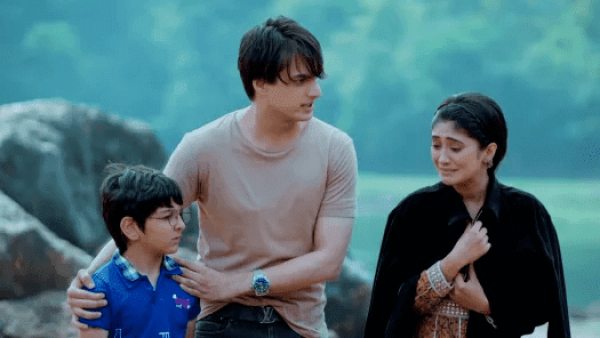 As they come near to the car Manish calls them to tell them about Dadi's health and she is admitted to the hospital. Kairav says now he doesn't want to live in Mumbai he wants to live in Udaipur and they all should pack their all stuff, on which Naira makes him understand right now this is not possible.
Karthik and Naira reach the hospital with children Kiarav consoles Manish that he will pray to 'Krishna Ji' nothing will happen to your mother, Akhilesh takes Kairav and Akshu for praying to god. Meanwhile, Doctor comes out and allows Karthik and Naira to meet Naira but says that she is not in her senses right now she could not hear anything thing, to which Naira reciprocate maybe she cannot hear us, but she will feel us.
Karthik and Naira meet Dadi after a while Dadi gets consciousness and feels so happy to see them. And also insists them to stay in Udaipur only otherwise she will die soon. Manish comes in and says 'Insaan jitna jyada dukh takleef ke neeche daba hua ho,apno ke sahare ki use utni hi jarurat hoti hai, tab ek rishte ko bachchane ke liye ghar chorkargye the, ajj apni dadi ke liye ghar wapas ajao .'The person who is under lots of pain, needs more love from her family, once you left the home for saving one relation today back for your Dadi.
Later, Karthik, Naira reaches the Goenka villa and Swarna feels so happy and says this home will always remain their they can come anytime.
In the next episode of Yeh Rishta Kya Kehlata hai we will see Kairav hugs Vansh and Vansh feels sorry for him. But Gayu is not happy to see them. How will Gayu react will she let Kaira's children live in the Goenka villa?
For all the updates of Yeh Rishta Kya Kehlata Hai before TV do follow "ALL DAT MATTERZ"
Pic credit- Hotstar