10 low budget Bollywood movies that were huge at the box office!
Bollywood has given us many great movies, some of which have also left a huge impact on us. But do you know some of these very amazing movies were not made in those high-end budgets? Today we bring 10 low budget movies that were really praised and earned a lot better than expected! Have a look
Paan Singh Tomer
Budget-Rs. 4.5 crores
Box Office- Rs.38 crores
This movie was based on a true story. The story was about an Indian soldier who becomes an athlete and then later turns out to be a rebel. The movie has Bollywood's two brilliant actors Irrfan Khan and Nawazuddin Siddiqui. Despite being very low on budget the movie did enormously well on the box office and the viewers had nothing but all praises about the movie.
Kahaani
Budget- Rs. 8 crores
Box Office- Rs. 78 crores
This is one of the few movies in Bollywood with only a female protagonist who is shown to be powerful and can overcome obstacles all by herself. The movie was a hit only because of Vidya Balan's marvelous acting. The movie also had a sequel and this suspense thriller kept the audience on the edge through the entire script.
Vicky Donor
Budget- Rs. 5 crores
Box Office- Rs. 65 crores
Ayushmann Khurrana's debut movie and Shoojit Sircar's romantic comedy Vicky donor released in 2012. The movie deals with a very sensitive topic that is sperm donation in light humor. Ayushmann Khurrana's acting was on point and soon he made it big in the industry. No wonder the movie was a huge success.
Tanu Weds Manu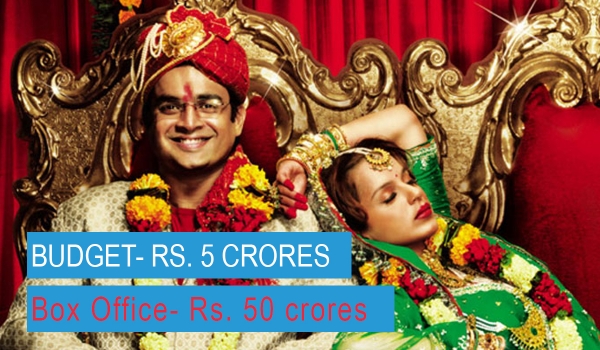 Budget- Rs. 17 crores
Box Office- Rs. 50 crores
This family entertainer was a huge hit and even had a sequel. The movie stars Bollywood's Queen Kangana Ranaut, R. Madhavan and Jimmy Shergill in main roles. The movie is a romantic drama directed by Aanand L. Rai and produced by Shailesh R. Singh. The good and light script worked for this movie making it a hit among its viewers. Everyone loved the quirky and extrovert Tanu paired with the introvert and serious Manu.
Peepli Live


Budget- Rs. 10 crores
Box Office- Rs. 40 crores
Another movie dealing with a very sensitive topic about Indian farmers committing suicide. The movie portrayed how for TRPs media twists and turns stories making money out of their miseries. The great script, content along with bang on acting in this movie did well at the box office.
No One Killed Jessica


Budget- Rs. 9 crores
Box Office- Rs. 58 crores
Based on the true incident where a young woman named Jessica Lal was killed by a spoiled and rich brat Manu Sharma when she refused to serve him with liquor after the bar was closed. The movie's lead actresses were two very powerful women of the industry Vidya Balan and Rani Mukherjee. Although the case was already a sensation the movie took the masses by the storm and was a huge hit loved by all.
Toilet Ek Prem Katha


Budget- Rs. 18 crores
Box Office- Rs. 212 crores
This Akshay Kumar starrer again dealt with the social issue of proper and hygienic sanitation. The movie was a romantic story which revolved around the construction of a toilet in the rural parts of India. The movie was sarcastic about the hypocrisy of the Indian mindset and orthodox people regarding proper sanitation. The movie was greatly appreciated by the audience and it was very much evident by its rising numbers.
Taare Zameen Par
Budget- Rs. 2.2 crore
Box Office- Rs. 88 crores
It is very rare that Mr. Perfectionist does a movie and it does not go well with the audience. Masses specially parents connected with this on an emotional level. The movie revolved around the story of a dyslexic child who is not understood by anyone even his parents but one of his teacher. Amir Khan's role in this movie was highly applauded by people who was the epitome of the love and care a child needs. This very emotional movie even made the very cold-hearted ones melt!
English Vinglish


Budget- Rs. 11 crores
Box Office- Rs. 78 crores
This movie was Sridevi's comeback. The movie revolves around a home-maker who is constantly shown down by her family despite her constant efforts. She then learns English secretly which increases her confidence and her family members are shocked by this new change. Everything in this movie was bang on, from the acting to the actors the movie scored big on the box office and was loved by all.
Aashiqui 2


Budget- Rs. 9 crores
Box Office- Rs. 109 crores
The debut performances of Sharddha Kapoor and Aditya Roy Kapoor and earned way more than its original Aashiqui. The music in this movie took it to another level which touched the hearts of all love birds. One of its song was even regarded as the 'love anthem of the nation' for the year.3The movie swayed the masses and was an enormous hit combined with breathtaking music and soul touching acting by the two stars.
Stay tuned for more!