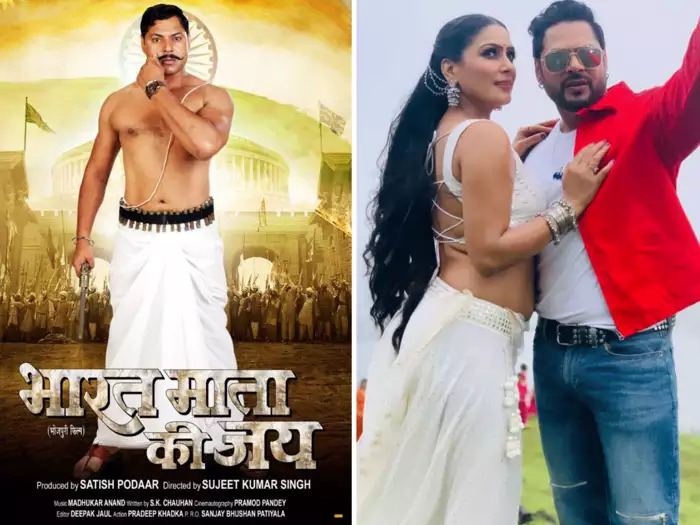 The shooting of Bhojpuri's famous actor Prince Singh Rajput and Payas Pandit starrer film 'Bharat Mata Ki Jai' is going to start in Gorakhpur from 16 September 2022. Gorakhpur is also the parliamentary constituency of Bhojpuri star and BJP MP Ravi Kishan. This will be the shooting of the second schedule of this film and its preparations are going on in full swing. The film is being directed by Sujit Kumar Singh.
What did director Sujit Kumar Singh say? The director says that the shooting of the first schedule of the film has been excellent. He said, "Bharat Mata Ki Jai" is a superb concept film and it is being produced with grandeur. We have just completed a schedule in which all the actors have given their best. Also the collaboration of the film's producer Satish Poddar has been phenomenal. Hopefully our second schedule will also be great and we will come to the audience with a meaningful film.
Producer Satish Poddar is happy with the film.
Producer Satish Poddar said, "Filmmaking is an art and my aim is to make good films. So we are not compromising in the production of our film 'Bharat Mata Ki Jai' and we are working on the film as per the demand of the story. Under this, we are now going to shoot in the parliamentary constituency of actor and MP Ravi Kishan, who took Bhojpuri to fame and heights. The location here is as cheerful and delightful as Ravi Kishan's. Viewers also like this location very much.
This will be the main cast
Let us tell you that 'Bharat Mata Ki Jai' is going to be a great patriotic film. The film is full of action, emotion, patriotism. The film stars Prince Singh Rajput, Payas Pandit, Sushil Singh, Umesh Singh, Amit Shukla, Brijesh Tripathi, Lota Singh, Sanjay Verma, Rahul Srivastava, Ramjan Sah, Anoop Arora, CP Bhatt, Vineet Vishal and Sanjay Singh in lead roles. The author is SK Chauhan. Music in the film is by Madhukar Anand.
Also Read: Superstar Ritesh Pandey, Furious Over 'Maharani 2', Told Bhojpuri Fans - Oppose This Web Series