After battling cancer at the age of 62, Sanjay Dutt is back in action as the strong and tough villain Adheera in 'KGF: Chapter 2'. It doesn't take long for Sanju to establish himself as an actor par excellence. To match his role, he wears 25kg armor and shoots every day. After facing so many challenges in life, what inspires him to move forward without fear or apprehension? He firmly replies, "It is my fighting spirit and Lord Shiva's blessing that keeps me going. Of course, my wife is like a pillar and she always supports and motivates me to fight all the battles."
Sanjay Dutt is among those Bollywood actors who have never hesitated to play strong and negative characters on screen and indeed love to show themselves in a diverse way. With K.G.F: Chapter 2, he will be making his Kannada film debut. Sanju wanted to do his best and did his best to do well.
He adds, "The role was a challenge in itself and it was actually a very difficult role to play. But Prashanth Neil, the director, the producers and everyone else made me feel comfortable. Yes, it was difficult to play because of my health issues. I think everyone's prayers and the love of the fans always help me do my best."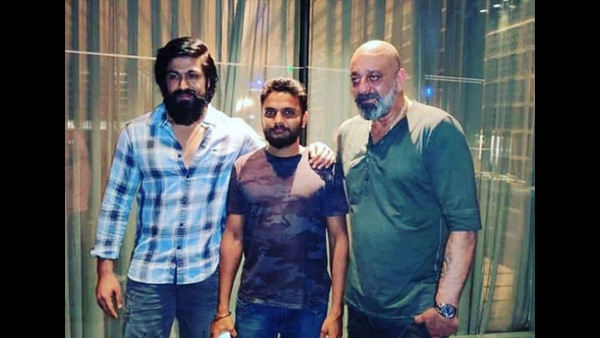 He continues, "Actually, they wanted the scenes to be easy for me considering my health, but I said 'no,' and I want to say that to all cancer patients. They faced the battle against cancer and they fought it."
He says that his character in "K.G.F: Chapter 2" reminds him of his movies like "Khalnayak".
"I love my character, Adheera," he says, adding, "He's a very interesting character, a very unpredictable guy who wants to take the kingdom back from him. And I really enjoyed doing the fight sequences with Yash."
Sanjay remembers working on set with Yash and the way he treated the entire cast. "Working with Yash was a great experience. These people respected me a lot. It was a lovely environment. I mean, whoever was on set is like, 'KGF It's just their movie. There was great teamwork. I actually saw that atmosphere and while working on sets for 'Saajan' or 'Naam' or 'Vaastav: The Reality', a similar kind of teamwork and dedication was there, and I think it should always continue."
On how Bollywood actors like him are a part of southern films and how they make an impact, he says, "Well, it's a mistake to categorize this film as a Kannada film or a southern film. It's not a wholly Indian film, but more well a Hindustani film and Prashant as a director has done a tremendous job. From my perspective, everything was discussed with him and we used to call him "the captain of the ship". He knows exactly what he wants from each of us and we have done it as he wants ".
Sanjay adds that as he takes on such challenging and distinguished roles, his father, the late actor and politician Sunil Dutt, always inspires him.
"He inspires me more than being an actor. He was one of the most amazing human beings who helped so many people. And as an actor he taught 'You have to be versatile and versatile.' ".
Does he want to try his hand at politics and say, "No, never. I'm enjoying what I'm doing right now."
He was also happy to work with Raveena Tandon after such a long time. Ravenna plays the role of politician Ramika Sen in it. But in the same place, Sanjay regretted not sharing screen space with her in the movie. "Unfortunately, Raveena and I didn't do any scenes together in this movie."
Sanjay thanked the fans and concluded, "I am grateful to each of my fans for their support and prayers. I just want to say, 'Watch 'KGF: Chapter 2' and give your love to the movie."
"K.G.F: Chapter 2" is scheduled to premiere on April 14 in Kannada along with Telugu, Hindi, Tamil, and Malayalam languages.
Also Read -
10 South Indian Movies: Bollywood audience will seek dubbed version