The Enforcement Directorate (ED) has summoned 12 Tollywood actors and directors, including Rakul Preet Singh, Rana Daggubati, Ravi Teja, Puri Jagannadh, Charmme Kaur, Mumaith Khan, and others, in a four-year drug case. While Puri Jagannadh was summoned by the ED on August 31, Rakul Preet was summoned on September 6. Rana and Ravi Teja were summoned on September 8 and 9 respectively. In 2017, these 12 actors and directors were questioned by the Special Investigation Team (SIT) as part of high-level drug trafficking.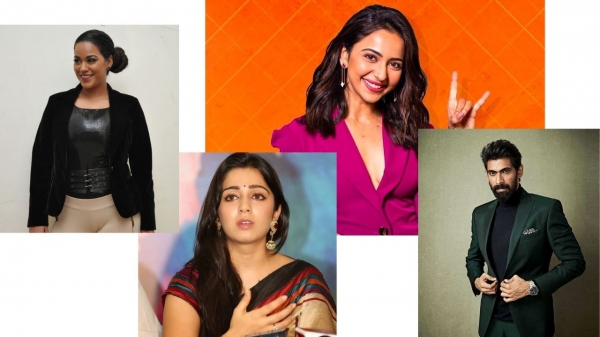 ED calls Rakul Preet, Rana DaggubatiI in a four-year pharmacological status
Tollywood actors and directors, including Rakul Preet Singh and Rana Daggubatii, have been summoned by the Enforcement Department (ED) in connection with a four-year drug case, Sources reported. The CEO is investigating a money laundering case in which Rakul Preet Singh was required to appear before the agency on September 6, Rana Daggubati on September 8, and Ravi Teja on September 9. August 31st. Mumaith Khan was summoned to appear on November 15. Actress Charmme Kaur has also been summoned by the Financial Investigation Agency.
Sources told that celebrities have been called as witnesses in the case. A money-laundering investigation by a managing director is based on a case from the Department of Excise and Prohibition. In July 2017, the investigation team of the Hyderabad Department of Excise and Prohibition launched an investigation against Tollywood celebrities and others.
Subsequently, SIT collected hair and nail samples from 62 suspects, including celebrities, but as of now, SIT has not filed an indictment against any of the celebrities. SIT has also not disclosed yet whether any of the celebrities were involved in drug trafficking or use.
A South African national, Rafael Alex Victor, was also arrested by the SIT in August 2017 for allegedly supplying cocaine from Mumbai to Hyderabad.
Also Read - Kareena Kapoor Khan, Shilpa Shetty Kundra, Farah Khan: Bollywood moms defy age standards related to pregnancy