Chicken is a delicacy that is like the staple food of non-vegetarians, especially in India. It is one of the best Indian foods. Not just because of the amazing flavor of the core ingredients i.e. Indian spices but also because of the high nutrient value of chicken. Every 100 gm of chicken is capable of providing 30 different nutrients to the body. It is also a great source of low fat protein and has anti-cancer properties due to the presence of selenium (a chemical substance) in it. Some of the most common an popular forms of chicken in India are Tandoori chicken, chicken kebab and chicken shorma.
You Might Also Like: 5 chicken dishes which ditch the recipe
And so here we have a list of best chicken recipes for you-
Grilled chicken Escalope with Fresh Salsa-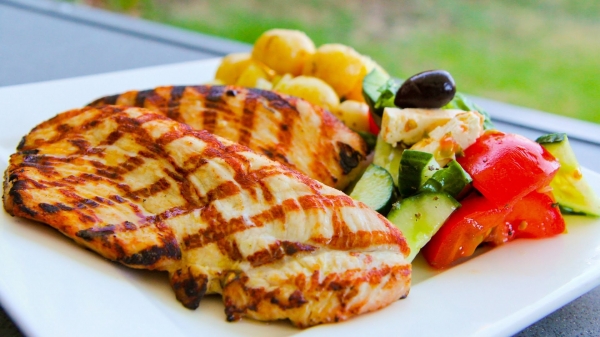 You need to marinate the chicken in home-made spice powder and green paste. You must then grill it to perfection. Observe when it is slightly dark brown and crisp you may consider it grilled. It is served with a fresh salsa of grapes, spring onion and cherry tomatoes.
Recipe-
Prepare the spice powder by grinding fennel, pepper, cinnamon powder, star anise, and roast till it turns into powder.

Take 1 cup mix of parsley, the green part of the spring onion and coriander and blend them into a smooth green paste.

For about half an hour marinate 1 skinless, boneless, chicken breast with salt, pepper, 1tbsp spice powder and green paste (for about half an hour).

Cook in a hot pan with 4 to 5 tbs. of oil or grill it.

Toss ½ cup green or black grapes, ½ cup chopped spring onion and 1 cup cherry tomatoes, 1 tbsp green chili chopped, 1 yellow bell pepper chopped, 1 tsp chopped parsley, 1tbsp chopped coriander, 2 basil leaves, 1 tbsp lemon juice, 2tbsp olive oil, salt and pepper for the salsa in a bowl, refrigerate until needed. Serve with the prepared chicken.
Amritsari Chicken Masala
-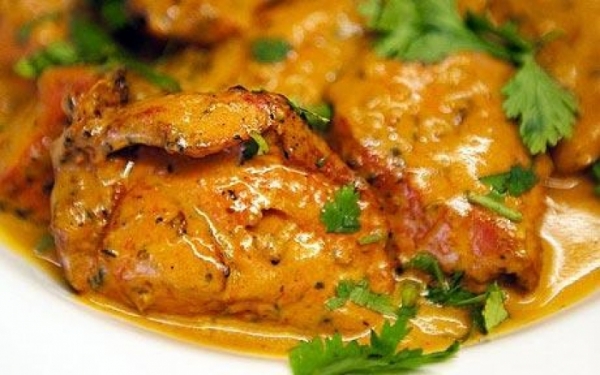 It is one of the most famous Punjabi dishes. Chicken is prepared in the unique amritsari gravy and butter, fresh cream, and tomatoes are added to it. It is also named as murgh or chicken makhani and is a very famous dush, especially in the northern parts of the country. It has a unique color due to the tomato puree. It is an easy to prepare dish.
Take nicely washed, fresh chicken in a big bowl

Add 3 tsp curd, 2 tsp ginger-garlic paste, 1 tsp vinegar, 1 tsp lemon juice, 1 tsp coriander powder, 1 tsp cumin powder, 1 tsp salt, 2 tsp chopped onion and 1 tsp red chili powder to the chicken.

Thoroughly mix the ingredients and leave it for two hours for marination

For preparing gravy, take a pan and add 2 tsp butter after the pan is hot.

Now add 1 tsp red chili powder and sauté it.

Add 1 tsp cumin powder, 1 tsp coriander powder and 1 tsp chopped ginger pieces to it.

Saute them and ½ cup add water to the pan. Keep mixing and further add 1 green chilli, 1 tsp salt, 6 tomato and ½ tsp sugar. Mix them well.

Take 3 tsp butter in a separate hot pan and add the marinated chicken to the pan. Now sauté it well with butter.

Leave the pan covered with a lid for cooking. Remove the lid when the chicken turns golden brown and the butter subsides.

Add the pre-cooked tomato gravy and mix well. Now cover the pan again and leave it for a while.

Remove the lid and add 3 tsp cream to the chicken gravy. Your Amritsari chicken masala is now ready.

Garnish with coriander leaves, green chillies and serve hot with Amritsari Naan
Teekha Murga
-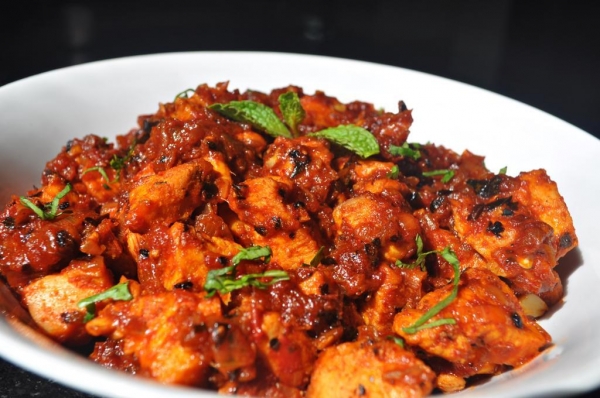 As the name says it is a spicy chicken recipe packed with fiery flavors and the best of Indian spices. It is a must-have for non-veg parties. Here is the teekhi recipe for it-
Heat 75 ml mustard oil in a pan and add 1 tsp onion seeds (kalonjee) and 1 tsp fennel seeds (sauf). After they release flavors, add 2 tsp chopped garlic and saute for some time.

Add 200gm chopped onion, 150 gm tomato; 1 tsp chopped ginger and 2 green chillies. Fry them until the onion turns brown.

Simultaneously fry 2 tsp curry leaves and thereafter crush them.

Add the 1 kg boneless chicken, 1 Tbsp tomato paste and mix for a while. Now add 1 tsp cumin powder, 1 tsp black pepper, 1 tsp red chili powder, a pinch of black salt, 1 tsp salt to it and mix them.

Cook for about 10 minutes with a lid on the top and on low flame.

Add the crushed curry leaves and serve with fresh coriander (20gm) and mint (10 gm).
Murg Malaiwala
-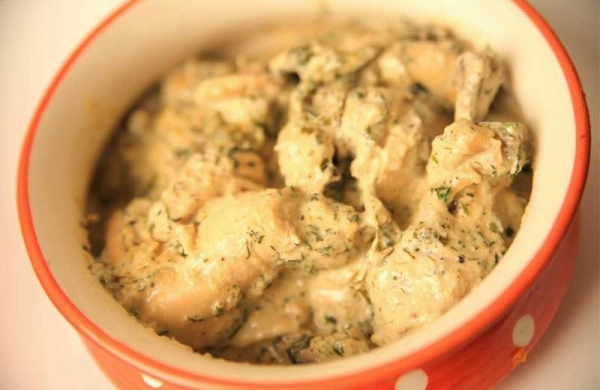 Chicken drumsticks along with subtle flavors of milk, cream saffron, mild spices and rose petals. The best part of this recipe is that there is no oil or ghee added to it yet it has a unique and enchanting flavor. To add to the taste garnish it with almonds and enjoy with your friends and family.
Make small incisions in 5 chicken drum sticks. Marinate with 1 tsp ginger, 1 tsp garlic paste and 2 tsp white pepper powder for almost thirty minutes.

Dry roast 1 black cardamom (badi elaichi), 8 green cardimoms (hari- elaichi), 1 piece mace (javitri), 2 tsp cumin seeds (zeera), 4-5 cloves (laung), 1 cinnamon (dalchini), 4-5 balck peppercorns (kali mirch), 6-7 dried rose petals and grind in a mixie.

Now heat a pan and add 1 cup cream, 1 chopped onion, 3 chopped green chillies, and cook until the onions are tender.

Now add the 2 ½ cup milk and the marinated chicken to the pan and mix well.

Add 1 tsp green cardamom powder, 1 tsp chopped ginger, ½ tsp dry ginger powder, 2 Tbsp coriander leaves, 1 tsp white pepper powder, 1 tsp kasoori methi, 2 tsp garam masala, a pinch of saffron. Let it boil.

Saute well and cook for about 7-10 minutes. Add salt and mix.

Garnish the prepared recipe with 2 tsp chopped almonds and serve it hot.
Kerala Chicken Roast Recipe-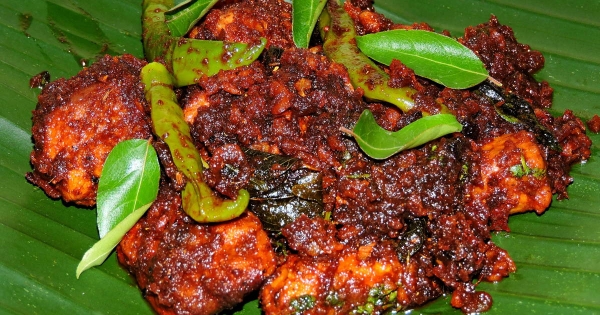 It is a delicious semi-dry marinated chicken recipe, fried and sautéed with tangy flavors. This dish adds the south Indian touch and brings out the flavors of the south. This dish can be served with rice or an Indian bread.
Cut 1 kg chicken into medium pieces.

Make a paste 1/4 tsp Turmeric powder, 1/4 tsp Chilli powder, 1/4 tsp Coriander powder, 1 tsp Vinegar/lemon juice, 5 Garlic cloves, 3-5 Green chillies and salt.

Marinate chicken pieces with the prepared paste and keep it for an hour.

Cut 3 medium sized onions in thin slices and stir fry in hot oil. Thereafter drain the onions and keep it separately.

In the same oil, fry the chicken pieces and turn off the heat when almost done. Cover the pan to avoid the browning of the chicken. Drain and keep aside.

Heat 2 tbsp of oil in the pan and add 2 green chilies and 3 curry leaves. Cook for 1 minute.

Add the tomato paste prepared from 1 large tomato to this and again cook for a minute. Add the chicken and roast till it turns dry.

Sprinkle ¼ tsp garam masala and ¼ pepper powder and mix.

Now add 1 lemon juice and mix again. Add salt if needed. Lastly add the fried onions. You Kerala Chicken is ready to eat.
You Might Also Like: 10 Indian Non-Vegetarian Recipes
You Might Also Like: 5 chicken dishes which ditch the recipe