No need to follow a step-by-step method to rustle up these quick and sumptuous meals for chicken lovers
You've probably got a stack of recipe books gathering dust in the book shelf, because frankly, collecting recipes is one thing and executing them into a dish is a day's worth of work. Not only will you have to note the recipe down, there's a trip to the grocery store for the ingredients and the tedious process of following each step of the preparation and cooking. Chicken being the second most versatile protein – after eggs – we've made things easier for you with these freestyle meal ideas that don't have a rigid recipe and measurements to follow. All you need is a handful of ingredients and a flair for cooking.
1. ISRAELI SALAD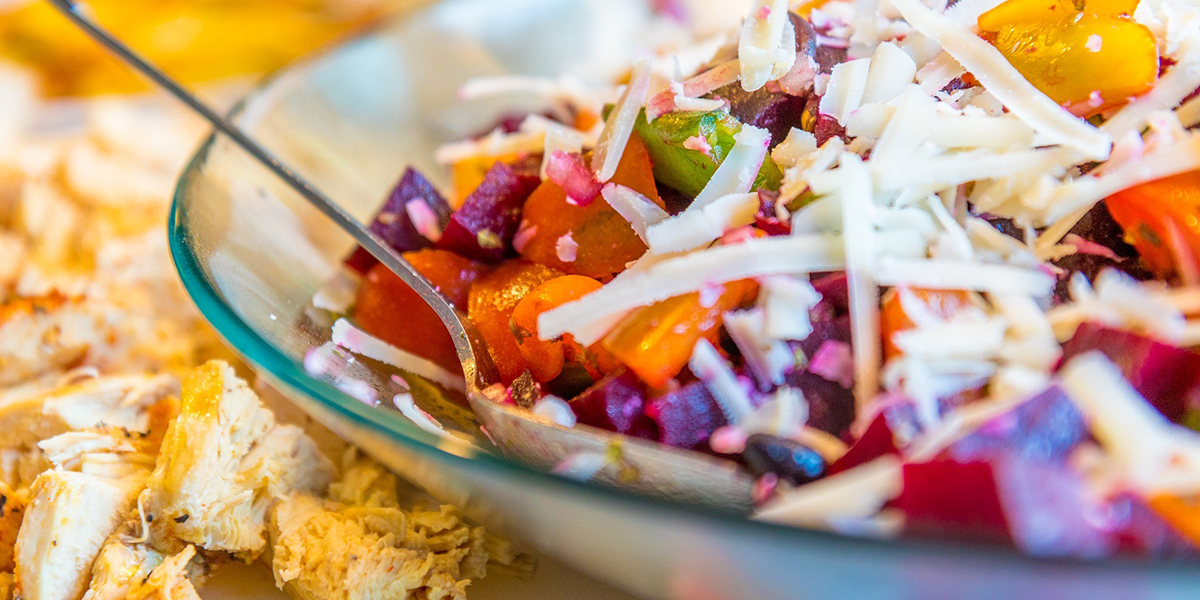 A favourite at Goa shacks (thanks to the Israeli tourists), this healthy Middle Eastern salad is quick to rustle up. It's high in protein, fibre and has the goodness of greens and herbs. Toss chicken breasts on a non-stick fry pan on medium heat, and season with salt and pepper. Meawhile, drain a cup of boiled or canned chickpeas and mix with vegetables like fresh tomatoes, roughly grated cucumber, red and yellow bell peppers. Once the chicken breasts are cooked and cooled to room temperature, toss them into the vegetable mix and garnish with dried parsley, red wine vinegar, olive oil and serve on a bed of salad greens like iceberg lettuce or spinach.
2. CAJUN CHICKEN
This one-pot Chinese meal holds a pizza delivery promise of satisfaction guaranteed in under 30 minutes. Perfect for the days you aren't in the mood to do the dishes; one pot will suffice. Season boneless chicken with salt and pepper. Cook with a dash of coconut or olive oil on a non-stick fry pan for a few minutes. Once the chicken is white and starts turning brown, transfer it to a bowl. In the same pan, saute brown rice, chopped yellow peppers, Cajun seasoning (available at most supermarkets) and enough chicken broth to cover the contents. Add the chicken back to the mixture and let it simmer on low heat for 20 minutes or until the rice is cooked. Serve with chopped coriander leaves.
3. OVEN PAN ROAST
All you have to do to make this pan roast is put your chicken pieces and vegetables on a sheet pan, drizzle generously with olive or heart-healthy coconut oil and set it on 200°C or 400°F for half an hour. For the roast, use veggies like sweet potatoes, green beans and broccoli. Fresh rosemary, oregano, black pepper and garlic powder for the herbs and spices. Use the leftovers from this dish for next day's salad.
4. WHOLE GRAIN PASTA
This recipe puts chicken sausages to good use in the shape of medallions. It satisfies the carb craving while giving you enough nutrition and fibre.
Set a pot of water to the boil and bring out your choice of whole grain spaghetti pasta. While the pasta cooks, remove the casing from plain chicken sausages (as many as you'd like for the meal) and slice them into round medallions. Chop broccoli, spinach, tomatoes, green, yellow or red bell pepper and 4-5 cloves of garlic. Use a dash of olive oil to saute the garlic on a non-stick casserole. Once the garlic starts browning, add the vegetables and ground black pepper, dried rosemary and stir. When the vegetables are just about cooked, add the sausages and stir for a minute. Combine with the pasta before serving.
5. MAPLE AND MUSTARD CHICKEN
This baked American-style dish is low in carbs, rich in protein. It has a sweet-sour flavour thanks to the maple syrup and Dijon mustard. It is served in two parts – the veggies and chicken are baked separately and have different seasonings.
Preheat oven to 200°C (425°F) and keep two baking pans ready. Blend half-a-cup of Dijon mustard with a quarter cup of maple syrup with a tablespoon of red wine vinegar. Drizzle this mixture on top of big chicken pieces in a baking pan lined with aluminum foil and sprinkle salt and ground black pepper. In the other baking pan, place sliced carrots, sweet potatoes and brussels sprouts and drizzle with some olive oil, salt and pepper. Bake for 30-40 minutes.