One of the most popular Bollywood actresses is
Katrina Kaif
. She has worked in twenty-one films so far and has established a name in the Indian cinema which is now a
favorite
. On her birthday we bring 10 facts about this actress to you that will surely shock you-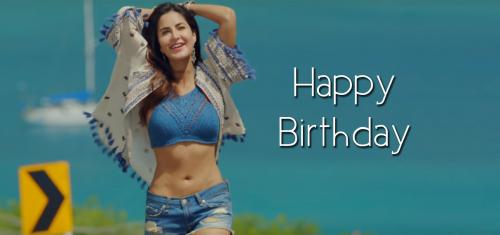 Her real name is Katrina Turquotte. The actress changed her name when her first movie Boom was launched so the Indian audience may relate to her better. Her Boom director Ayesha Shroff said, "We wanted to give her a surname which would be accepted by the Indian audience. We thought of naming her Katrina Kazi, but then we thought Kazi would have a religious overtone. So we finalized on Kaif."
Katrina is half British and half Indian. Her mother, Suzanne is British while her father Mohammed Kaif is of Indian origin hailing from Kashmir. Her father divorced her mother and moved to the States while Katrina's mother brought up her as well as all her seven siblings. The star also openly claims that her father has had absolutely no impact on their upbringing.
The Ek Tha Tiger star has lived in various cities around the world like Japan, France, Switzerland, Belgium, and Poland. although the actress was born in Hong Kong she got her first assignment when she was nearly 14 years of age in Hawaii. She finally moved to London where she lived for three years.
She was home-schooled by her mother, thanks to the various correspondence courses available.
Katrina Kaif is the only Bollywood actress to have a Barbie doll based on her. The prestigious list includes actresses like Marilyn Monroe, Audrey Hepburn, and Elizabeth Taylor.
Apart from her acting skills, the actress is an efficient chess player. Amir Khan once told the media that he almost lost to her in a game of chess. She is also a skilled painter.
Her favorite actors are Leonardo DiCaprio and Johnny Depp while her favorite actresses are our very own Madhuri Dixit Nene and Kajol.
Katrina is still a citizen of the United Kingdom. Despite her being a very popular Indian actress she is here on a work visa.
She is quite the philanthropist as she contributes duly to her mother's charitable organization called the Relief Projects India which helps in the prevention of female infanticide and homes abandoned baby girls.
Katrina has few properties in England to her name but does not own any property in India. She lives in a rented house in Bandra.
We wish the gorgeous the very actress a happy birthday.