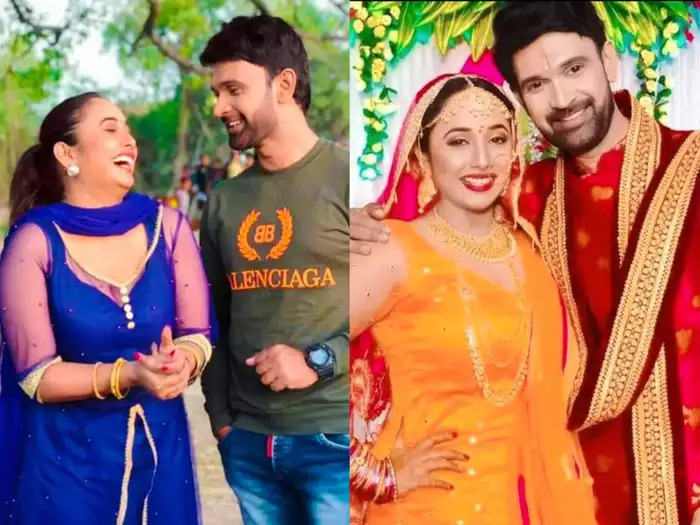 Bhojpuri superstar Rani Chatterjee is soon preparing to give a special gift to her fans. After a long wait, the Bhojpuri film 'Babul Ki Galliyan' of the actress will be released on Diwali this year. Jai Yadav and Awadhesh Mishra will be seen in lead roles along with Rani Chatterjee in this film.
Bhojpuri film industry gives opportunities to new talent. In this sequence, Jai Yadav has also got a chance to work with Rani Chatterjee. The fresh couple's film 'Babul Ki Galliyan' will hit the theaters in Diwali. Apart from Rani, Jai and Awadhesh Mishra, the film also includes famous actors like Roshni Singh, Dev Singh and Prakash Jaish. Jai is very excited for this film. In an interview, the actor told that he considers himself lucky that he got a chance to work in this film. Presented by Tanda Films, the story of the film 'Babul Ki Galliyan' is written by Sabha Verma.
Jai Bole - Sharing screen with Rani Chatterjee is like a dream
Jai says that newcomers move forward after watching films of actors like Awadhesh Mishra and Rani Chatterjee. He had no idea that he would get a chance to work with whose films he used to inspire. The actor further said, 'I am thankful to the producer of the film Sanjeev Boharpi and director Ram Gopal Saini.
He told me that the trailer of our film has received a lot of love from the audience. The audience has also appreciated my character. I am being congratulated for the film. Now I just want to tell the audience of Bhojpuri that whenever 'Babul Ki Galiyan' is released, you all must go to theaters and watch it.'
Jai is a fan of Awadhesh Mishra.
Referring to his co-star Awadhesh Mishra, the actor said that he got to learn a lot from Awadhesh ji's experience. His acting was really amazing. Jai feels that the new generation should look into acting Awadhesh Mishra, who is an institution in his own right. According to the actor, the film has a good balance of experience and novelty, which has a message along with entertainment.
Also Read: Rani Chatterjee Slams Trollers For Calling Her Aunty