Realme Buds Wireless Pro Build Quality and Design:
There are two variants in color combination one is with black and Yellow combination as its previous version of neckbands earphones, other is of green color it was quite bright and attractive color. The rubber band is designed with silicon and is quite hard and of good quality, you can wear it on your neck for a long time it won't infect you or itch.
There are few changes in the Realme Buds Wireless Pro module from the previous module as it is enclosed with metal and plastic and designed in a rectangular shape it fits better in the neck, and the previous version is of metal and was designed in a circular shape.
Realme Buds Wireless Pro also has a rubber tip which makes its joints stronger. The quality of its wire is too good as it is quite thick. In Realme Buds Wireless Pro there is an increase in size because it supports ANC, Transparency mode, dynamic driver 13.2, still it's not too heavy. The shape of the tips of the buds is also changing it is not circular but kind of rectangular.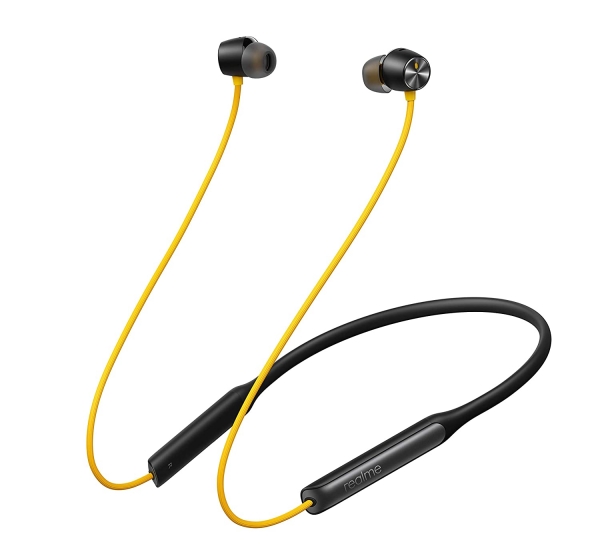 Overall in the case of Realme Buds Wireless Pro Build Quality and Design these are strong and improved than earlier versions. These are comfortable from the neck due to their flat module. It has a quality of Bluetooth 5.0 and also supports google pairing by detaching and attaching earbuds. You can connect it from one device to another. There are dedicated switch button in this from which you can change modes such as Active Noice Collection Mode, Transparency Mode. We can customize these earphones by using the Realme application also, we can change modes from the Realme application also.
Realme Buds Wireless Pro are good with Active Noise Collection as if you activate that mode it completely reduces sounds from surrounding, when you watch the movie but these are somewhere lack in sound quality and base quality, as for music.

Realme Buds Wireless Pro is excellent in Transparency it is quite opposite to ANC and also accurate.
Realme Buds Wireless Pro Gaming Mode:
If you long-press the mode changer button you can active Gaming mode it helps to enhance super-low latency and Realme Buds Wireless Pro did very well with this feature it is quite accurate in case of Latency.
Read also - Apple AirPods Max Over-Ear Headphones Launched in India, Shipping Starts December 15

Realme Buds Wireless Pro Call Review And Sound Quality:
Due to the Active Noise Cancellation feature Realme Buds Wireless Pro calling voice is also extremely good.

Realme Buds Wireless Pro is consists of 13.6mm drivers, AlDAC feature which supports high raise sound also. These are highly recommended for users who like loud sounds. Your experience will be too good in sound quality with this product.
Realme Buds Wireless Pro Battery Life:
In the case of the battery, these can survive up to 12 hrs to 13 hrs by using ANC active.
Realme Buds Wireless Pro Price In India:
4000 Rupees it is quite expensive according to the product but if your budget is up to 4000rs these earphones are highly recommended.
Thumbnail Pic Credit -Gizmochina

For all the EXCLUSIVE NEWS and UPDATES do follow 'ALL DAT MATTERZ'.