The episode of Yeh Rishta Kya Kehlata hai starts with Naira wakes up and see she is late what family members will think what type of girl she is, she hurriedly runs and sees children are playing with Sawarna and Suhasini she feels happy to see that, and say 'Mumma agar naa bhi rahe na toh bhi koi faraq ni pdhta mere bachchon pe, unki dadi par dadi jo hai unhe sambhalne ke liye'(if I'll be not with them there is no worry because their grandparents are there to take care of them).
After this Naira comes downstairs and heard the voice that Karthik is going somewhere saying bye to the children but didn't meet her she hurriedly went out and heard the sound of tire bursts and gets worried and screams 'Karthik runs fast. Karthik says I'm Okay what happen to you why are you so worried, Naira says I just got scared after hearing the sound of a burst tire. Karthik says we cannot change the sound of the tire burst it's natural, I'm alright on which Naira says why something will happen to you. I'm always with you they both console each other. Niara says to Karthik you will never go anywhere without meeting me after a small conversation Karthik went.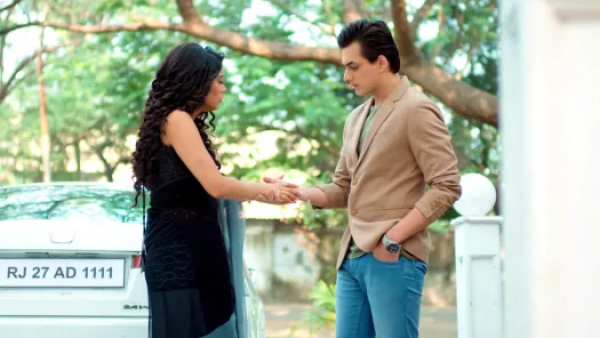 Pic credit - hotstar

Naira asks the children whether she prepare Kachori for them, to which Kairav reciprocate yes Mumma also prepare Jelly for Vansh, yellow jelly is his favorite jelly, Naira says yes I know, Gayu overhears.

When Naira was coming in she heard the conversation of Suhasini and Swarna about tied moli for Karthik she gets tense and calls workers to go office and let Karthik tie this moli in front of him.

After looking Naira is so tense and worried dadi suggest we should go on the Kuldevi trip the entire family will go., Naira relaxes after this and says it will be too fun the entire family will be together after so long went to start preparing for the same. After that Naira calls Karthik and asks Karthik if he gets moli and ties or not, at the time he was tieing moli.
After this Naira tells Karthik to book bus to go to the Kuldevi temple. Karthik asks suddenly on which Naira says that 'life mein na bhut bhut major chije sudden hojati hai' and asks Karthik to book bus hurridly and Karthik was concern about her says that he doesn't want to see her sad always wants her to be happy. Later Karthik imagines Naira in his office at the moment moli again falls.
Kairav was painting Naira reaches there and help him in the same and then went to preparing Kachoris meanwhile children play together and Naira serves kachori and medicine to dadi and takes care of the entire family…..song behind 'ek albeli chali chali kis gali…' but Gayu is still upset with Naira and again Naira hugs Karthik and seems worried. And also asks about bus booking and whether it is comfortable or not.
The bus arrives dadi asks Karthik to bring Naira, Karthik gets a call that Naira academy students are planning a surprise for her. Then Karthik went to Naira and romance with her. Later, Naira opens a gift it was a recorder teddy bear and she records Akshu in it adding in the same she records 'Mumma ke aankho ke tare Kairav aur Akshu sabse Pyare I love you Kairav I love You Akshu'.
The episode ends here.
In the next episode of Yeh Rishta Kya Kehlata Hai we will see Karthik breaks Nariyal and injured Naira, he put a hanky on her forehead coincidently sindoor removes it from her forehead.
It will be interesting to see what will happen next whether this trip to the Kuldevi temple will enclose happiness or something Goenka can't imagine.
For all the updates of Yeh Rishta Kya Kehlata Hai before TV do follow "ALL DAT MATTERZ"

Thumbnail Pic Credit - Khabrilonda.com