Apple launched the all-new iPad Pro in two sizes — 11 and 12.9-inches. The additional features in this new version includes Face ID, a powerful A12X Bionic processor, USB-C port and so much more. Let's see what does the new iPad Pro has to offer.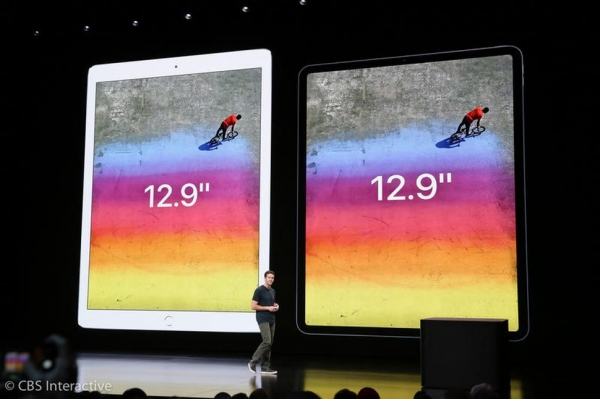 Apple iPad Pro first impressions: Design, display
The new iPad Pro is nothing like its predecessor and you will observe it the moment you hold it for yourself. Just like the Apple iPhone XR the new iPad Pro comes with an all-screen "Liquid Retina" display. The only difference is that the tablet version has an extra reflective coating and a 120GHz Pro Motion refresh rate.
The 11-inch and 10.5 inch model are somewhat similar but the display is much larger when compared to the previous version. This is due to an all-screen display and minimal bezels around the screen. On the other hand the 12.9-inch iPad Pro is smaller than its predecessor but maintains the same screen size. Given an option. We suggest the users to go for the 10.5-inch model because it is more comfortable to use.
The new model no more has the home button instead it is installed with the new gesture navigation system first introduced on the iPhone X. The Liquid Retina Display is quick and striking. Apart from the new iPad Pro, the iPhone XR is the only other device in Apple's lineup that comes with an advance LCD display.
Apple iPad Pro first impressions: Face ID, USB C port
iPad is the second device after the iPhones to use Face ID. Face ID in iPad can work regardless of its orientation while it can only be used in the portrait mode in case of iPhone X. As per Apple Face ID is the most secure way of unlocking your Apple products.
One distinctive feature of the new iPad Pro is a USB Type-C port. Apple has shifted from the primitive Lightning port (including the 3.5mm headphone jack) to the USB Type-C in order to connect to a 5K display. The USB Type-C connectivity on the iPad Pro can also be utilized to charge your iPhone. iPad Pro shall become the lead gadget for those who care about video, audio and pro-level photography.
Apple iPad Pro first impressions: New Apple Pencil and keyboard
The magic lies in the magnetically attached second-generation Apple Pencil attached on the right-hand side of the iPad Pro to a small strip. The Apple pencil can be charged wirelessly and automatically by just placing it there.
The second-generation Pencil has been enhanced in its controls and performance and it seems like you are almost holding a real pencil and not a stylus. Easy to handle and use. One lovely feature is that with a double-tap the Pencil switches from inking to erasing and vice versa. A double tap on the display also lets you automatically launch the Notes app. Users can customize different actions in settings as per their requirements.
Apple iPad Pro first impressions: Powerful hardware, software experience unchanged
The new iPad Pro uses Apple's A12X Bionic chipset which has 8-core CPU and 7-core GPU that generate graphics that are up to 1,000 times quicker than the first iPad. Apple claims. It is a real beast and is comparable to Microsoft's Xbox One S in terms of graphics. So the gamers can enjoy playing without any disruptions on this new gadget. Also you can run anything from Photoshop, soon to be launched on Apple store to Autocad.
Apple claims it to have a battery life of up to 10 hours, depending upon the usage of the tablet. The iPad Pro still runs on iOS 12 and so it indicates that this shall be a constant with no changes for the iPad Pro which is designed for pro-level users.
Apple iPad Pro first impressions: Early Verdict
iPad Pro is a gadget that makes life easier especially for those that do most of their work on tablets. Apple's vision of making it a mini computer seems to be in shape but as always the price remains to be pretty high. But that is how Apple sells its premium products, delivering high end experience to its users. The iPad Pro with the 11-inch version is priced at Rs 71,900 for 64GB model in India and the 12.9-inch model starts at Rs 89,900 again for 64GB storage capacity. You can always opt for a higher storage and discretionary LTE.