India is many things, it is a melange of diverse cultures, it is a vibrant country welcoming people of all race, caste and creed. However, the one thing India is not is it is not controversy-free.
Similarly, Indian cinema has always been prone to controversies. Be it an indirect attack on religious values, or nudity on screen, or incorrect portrayal of a historic personality, Indian cinema has seen it all.
We present to you some of the most controversial Bollywood movies.
1. Garm Hava - 1973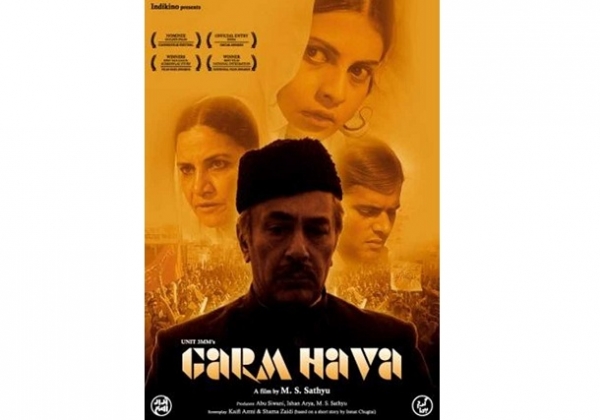 Based on the story of a Muslim businessman and his family. Garm Hava portrays the struggle the family goes through post the Indian Independence which led to partition. The struggle between staying in their homeland or reuniting with their relatives in another nation. Due to fear of communal riots, this film was delayed for 8 months, before it was released to the public.
2. Aandhi - 1975


The uncanny resemblance of the then Prime Minister Indira Gandhi was sure to stir up a lot of controversies. Allegedly based on the Prime Minister's relationship with her husband, the filmmakers said they had only based the physical appearance on Ms. Gandhi. After a lot of havoc, the film was released with a lot of scenes being censored and was completely banned during the emergency later that year.
3. Bandit Queen - 1994
A film based on the infamous Phoolan Devi, famed for leading bandit gangs in the northern bit of the country, this movie was in the limelight for an excessive use of abusive language, sexual content, and nudity. After being criticised by the Censor Board, Phoolan Devi too raised objection. The film, however, went on to win several awards and was highly acclaimed.
4. Kama Sutra: A Tale Of Love - 1996
With such a name, the film was sure to attract controversies. Directed by Mira Nair, Kama Sutra was banned due to its sexual content. However, people were unhappy with the irony as the Kama Sutra originated in India and could be readily purchased. The film based on the love stories of 4 individuals went on to receive critical acclaim.
5. Water - 2005
Water, which was set to release in 2000, was based on the lives of widows in an ashram and was set in 1938. It covered the controversial subjects of misogyny and ostracism, thus leading to protesters saying that it portrayed India in a bad light. The day before the movie was to begin shooting, 2000 protesters had destroyed and burned down the film set. Director Deepa Mehta was forced to shoot Water in Sri Lanka, instead of India, with a new cast and under a new name - River Moon. The film has received multiple awards and nominations at international film festivals.
6. Madras Cafe - 2013
Based on the then Prime Minister Rajiv Gandhi and the interventions of India in the civil war of Sri Lanka, Madras Cafe deals with an R.A.W. appointed Indian army special forces officer. A brilliantly made film, the portrayal of the rebels during the civil war was a matter of concern. It led to a number of protests in South India, and the movie could not fare well at the box office.
7. Padmaavat - 2017
The latest Bollywood movie to have fallen in this bandwagon, Padmavat is based on a Muslim leader's attack on a kingdom after falling head over heels in love with the kingdom's Queen Padmavati, who was a Hindu Rajput by caste. The film saw protests in various parts of the country after a Rajput caste group Karni Sena started protests. The protests went as far as the Karni Sena threatening to chop off Deepika Padukone (the main protagonist)'s nose. A BJP leader even offered a reward of approx. $1.5m for anyone who beheaded Mr Sanjay Leela Bhansali (the Director) and Ms. Padukone.

As far as cinema is concerned, we might keep seeing movies getting in and out of controversies, but that is no reason for us to not enjoy some fine real quality films.