Homosexuality is not a crime In India, five judges in the Supreme Court today announced an astounding ruling for the movement for gay rights in the country. The Supreme Court overturned its 2013 decision and said that section 377, a controversial ban on the British homosexual age by consensual consent, was illogical and arbitrary. "We have to say goodbye to prejudice and to train all citizens," said Supreme Court Chief Justice of India Dipak Misra. Four judges gave an agreed verdict.
You might also like: Good News! फिर पापा बने शाहिद कपूर, मीरा ने बेबी ब्वॉय को दिया जन्म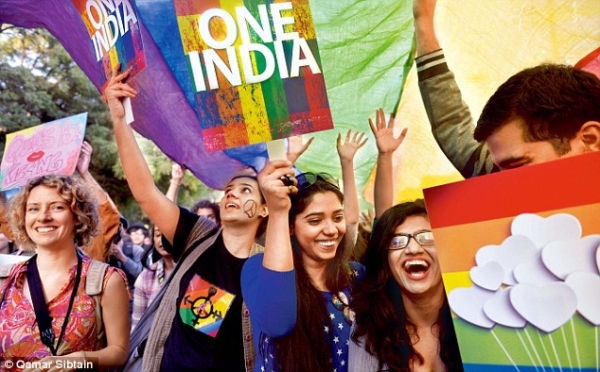 Here's your 10-point cheat sheet to this big story:
"Section 377" banned "carnal intercourse against the order of nature with any man, woman or animal" -- which was interpreted to refer to homosexual sex.
The Chief Justice said: "No one can escape from their individualism. Society is now better for individualism. In the present case, our deliberations will be on various spectrums."
"Respect for individual choice is the essence of liberty; LGBT community possesses equal rights under the constitution," the Supreme Court said.
Under the 1861 law, gay sex was punishable by up to 10 years in jail. Although prosecution under Section 377 is not common, gay activists said the police used the law to harass and intimidate members of their community.
The ban on gay sex was challenged by five high-profile petitioners who said they were living in fear of being punished.
The petitioners are, Bharatnatyam dancer Navtej Singh Johar, journalist Sunil Mehra, restaurateur Ritu Dalmia, Neemrana hotel chain co-founder Aman Nath and businesswoman Ayesha Kapur.
The petitioners argued that Section 377 violates rights and principles enshrined in the constitution, like equality before law, no discrimination based on religion, race, caste, sex or place of birth and freedom of speech and expression.
The Supreme Court had in 2013 cancelled a Delhi high court order that had decriminalised homosexuality by overturning the outdated law and said it was the job of parliament to decide on scrapping laws.
The Supreme Court this year said the court "cannot wait for a majoritarian government" to decide on enacting, amending or striking down a law if it violates fundamental rights.
In 2009, the Delhi High Court had described Section 377 as a violation of the fundamental rights guaranteed by the constitution. It had responded to a petition by Naz Foundation, which has fought for almost a decade for gay rights.