Bigg Boss OTT 2 is the talk of the town. Everyone is focused on the competitors, and viewers are closely monitoring what is happening within the house. Fans already have their favourite, and it is clear from social media trends that Abhishek Malhan is in charge. Elvish Yadav is quickly rising to the top of the competition now that he has joined the other wild card contestants inside the house. Many people are impressed to see how well-connected Abhishek Malhan and Elvish Yadav are on the show despite their rivalry. They are two of the most popular YouTubers.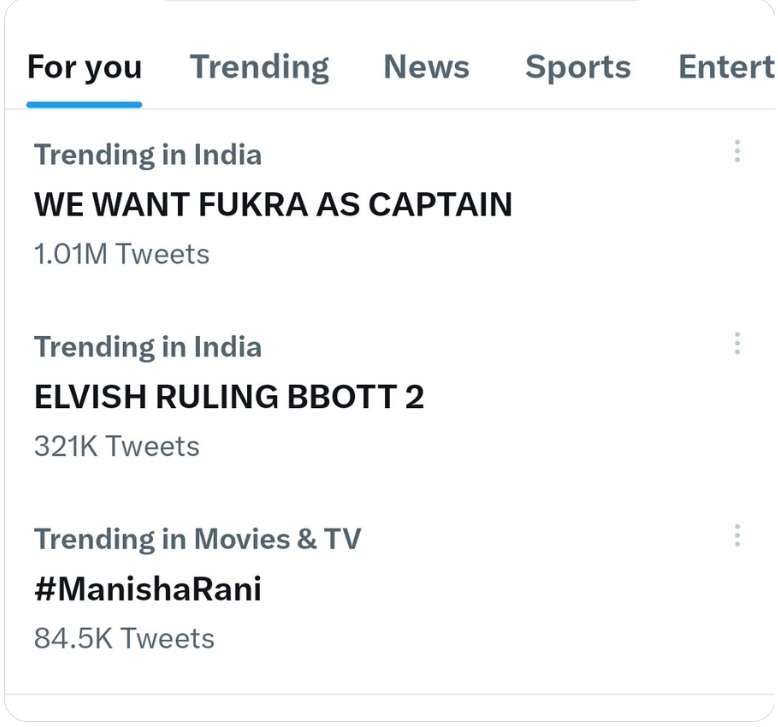 Abhishek Malhan, nicknamed Fukra Insaan, and Elvish Yadav's fan groups have defended the narrative of their rivalry since both celebrities began trending on Twitter. Videos praising their "Bhaichara" are being shared widely. Social media users have been sharing a video of Elvish in which he declares that if Abhishek Malhaan wins, he will give him the trophy because he is his "Bhai." On social media, there is a trending topic called Elvish Yadav Ruling BBOTT 2. However, Abhishek Malhan's supporters want him to lead the house as captain. The top Twitter trends include "We Want Fukra As Captain" for the house.
On social media, Manisha Rani is trending alongside Elvish Yadav and Abhishek Malhan. Everyone loves her relationship with Abhishek Malhaan, and the hashtag "Abhisha" is trending on Twitter. In addition, 'Entertainment Means Manisha' is trending on Twitter, and her followers are overjoyed to see that she is a genuine performer within the home. There is no denying that these three competitors are in fact in charge of the most recent season of BiggBoss OTT after managing to win everyone's hearts. Other than these three, Pooja Bhatt, Jiya Shankar, and others are the contestants of the show who get the most attention.