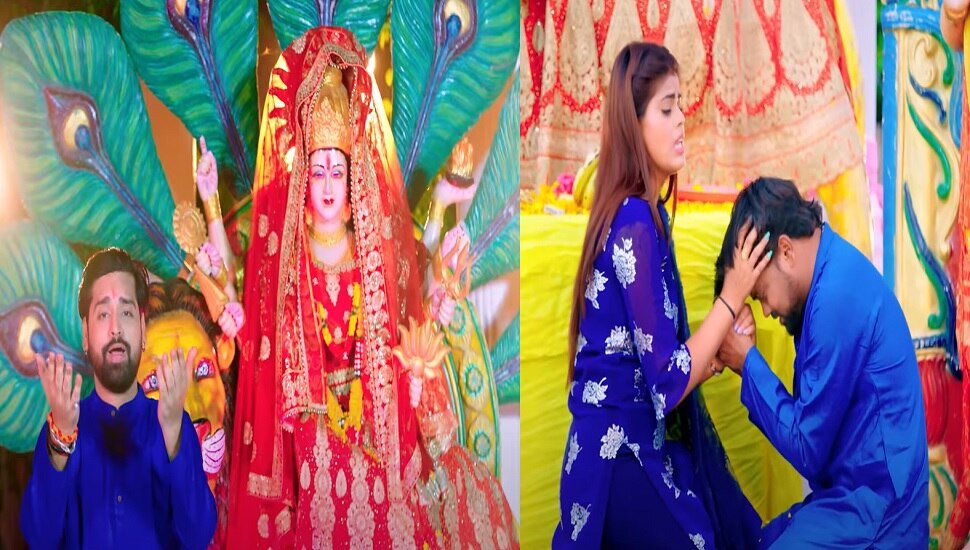 Shardiya Navratri is going to start from 26th September. This festival of worship of Mother Shakti is incomplete without the worship of Mother. In such a situation, the goddess songs of Bhojpuri language are getting released and becoming viral. You can see the splendor of these songs in the worship pandals of Bhojpuri speaking areas. On one hand people are busy in the preparations for Navratri, while on the other hand the hymns of Mother have made people devotional.
The process of releasing Devi songs from Bhojpuri film industry's actors and singers is going on since several weeks ago. In this episode, Rakesh Mishra and Bhojpuri singer Priyanka Singh's new goddess song 'Pagla Pandal Mein' has been released. The video of this song has been released by Rakesh Mishra on his YouTube channel. The video of this song shows how two loving couple are requesting the mother to give her her blessings and reunite with each other. Rakesh Mishra is also seen in the video of the song. This devi song of bhojpuri is sad song.
You can watch the video of this Bhojpuri goddess song 'Pagla Pandal Mein' by Rakesh Mishra on the official channel of Rakesh Mishra on YouTube. Where this video has got more than 37,563 views since its release and it has also got close to 8 thousand likes.
The lyrics of this Bhojpuri goddess song 'Pagla Pandal Mein' by Rakesh Mishra are written by Ajit Mandal and music has been composed by Roshan Singh. The video is directed by Lucky Vishwakarma. Viewers are very fond of this video.
Also Read: Amrapali Dubey Will Be The Heroine In Ratnakar Kumar's Upcoming Film, Ishtiaq Sheikh Bunty Will Direct