At the age of 28, Anupam Kher gave the most iconic performance of his career with his debut film 'Saaransh' in which he played the role of an old man. From 'Dr. Dang' from 'Karma' to 'ACP Prakash Rathod' from 'A Wednesday', he just adds life to each of his character. And now he is going to add another iconic character to his list of roles and that is of Ex Prime Minister Manmohan Singh.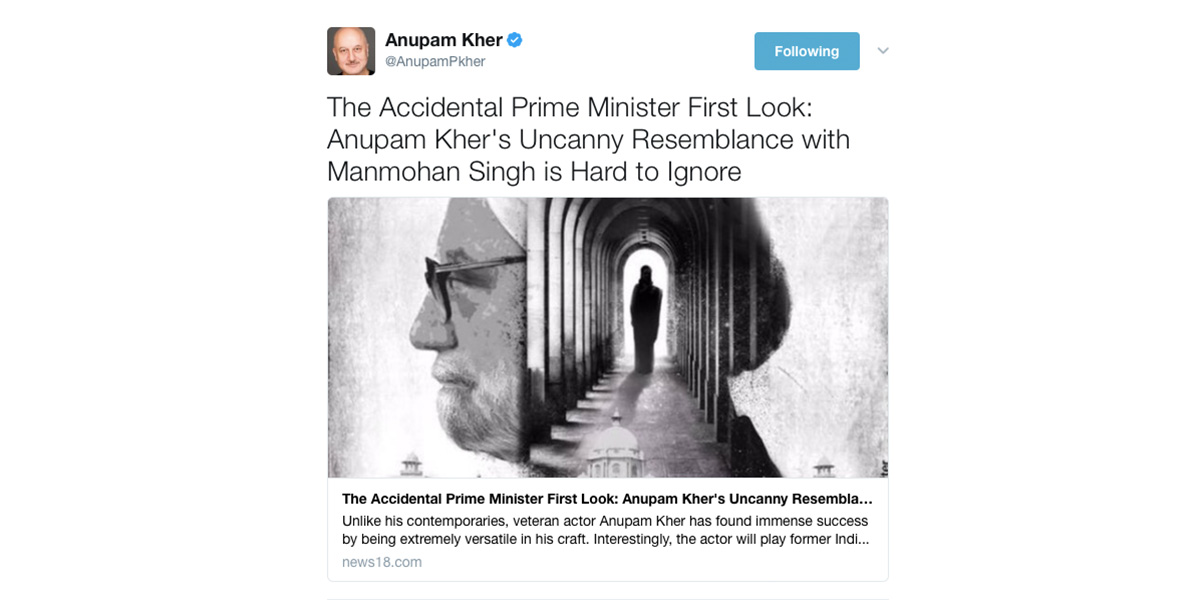 Anupam Kher is signed to portray as Mamnohan Singh in his biopic which is titled as "The Accidental Prime Minister". This film is an adaptation of Sanjay Baru's book "The Accidental Prime Minister: The Making and Unmaking of Manmohan Singh". Sanjay Baru was the media adviser of the ex-PM when he was in office and his book was released in 2014 around the time of General Elections. Indian audience loves the political drama and this film will be bigger and grander than Richard Attenborough's 'Gandhi'. The producer of the film Sunil Bohra has revealed certain details about the film that the research of the film is already finished and the casting is also in its final lap. The name of the other selected cast crew would be soon announced.
The first look of the film was revealed and Anupam Kher's uncanny resemblance to Manmohan Singh has stunned everyone. The whole film fraternity congratulated him on the first look of the film. Anupam Kher is elated and honored to portray this role and he in a conversation with Economic Times has said, "Acting the role of anyone in contemporary history is extremely challenging, as comparisons are bound to be instant and inevitable. But as I have always reveled in challenges, right from my first film Saaransh, I look forward to the experience of portraying PM Manmohan Singh."
The film will be directed by debutant director Vijay Ratnakar Gutte and the screenplay has been written by 'Shahid' director Hansal Mehta. The book reveals that Manmohan Singh was prime minister for namesake while all the important decisions were made by Sonia Gandhi.
However, as soon as the first poster of the film was released CBFC (Central Board of Film Certification) chief Pahlaj Nihalani has informed the makers of the film that they would need an NOC from the former prime minister and Congress President Sonia Gandhi before the release of the film.
The film will hit the cinema screens in December 2018. Let's wait and watch as to who will play the role of Sonia Gandhi as that would be an important character in the film?