Priyanka Chopra's trench coat-inspired gown with a massive train at the Met Gala has gone viral, complete with funny memes. We recap to historic dress trains that made the right noise
The world's biggest fashion labels – Oscar de la Renta, Gucci, Versace, Prabal Gurung – borrow one element of the bridal gown culture when they want to create a roar on a high profile red carpet – the train (the long back portion of the gown or skirt that trails behind the girl wearing it). It disappeared from the runway in the last decade, but has been seen creeping onto the red carpet on famous behinds.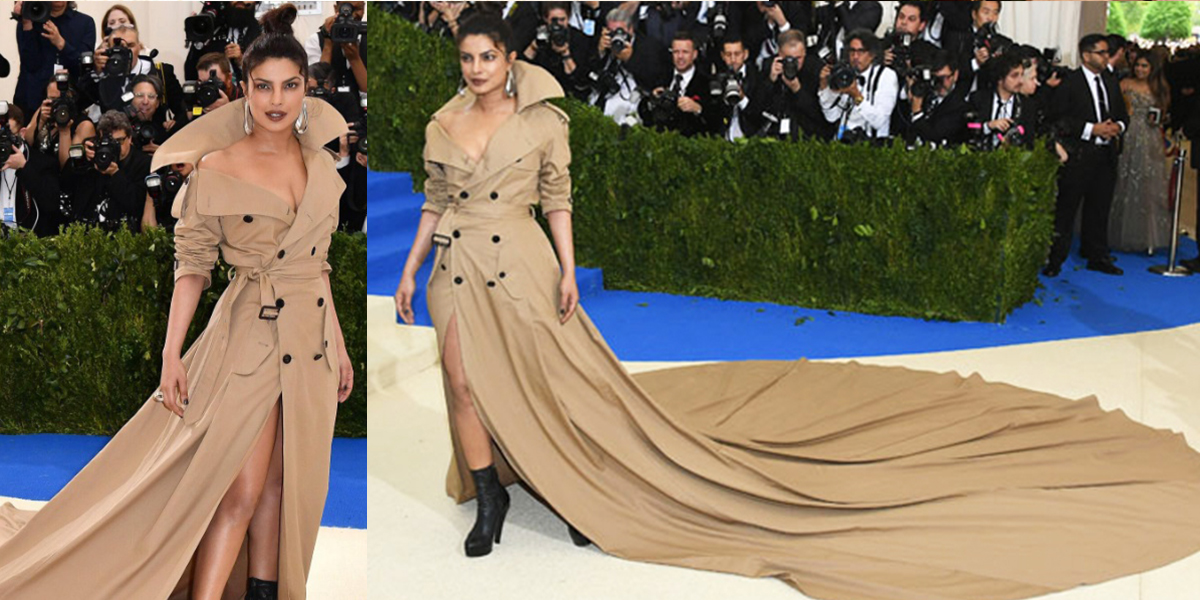 The latest example is Quantico star Priyanka Chopra. She wore the world's longest trench coat at the Met Gala earlier this month. Priyanka wore it with spunk, teaming it with black gladiator heels and a no-fuss hairstyle. Ralph Lauren had custom designed the outfit for the occasion and Twitter couldn't get enough of it. Funny memes started popping up, and before you knew it, the dress went viral.
It was Priyanka who had the last laugh. She picked her favourite memes the next day, and posted them with the message to fans: "**drumroll** ???? to your creativity! I've picked a few of my favourites. Good to know that the dress serves more purposes than just fashion. Hope to continue to stir your creative juices. This is why I love the #MetGala you literally can push the envelope for fashion anywhere. Until next time… #ROFL." Feast your eyes on other beautiful-to-bizarre trains that created history on the red carpet.
Sonam Kapoor

The actress made India proud on the Cannes red carpet last year in a virginal white Ralph & Russo gown with a dramatic embroidered train and matching choker neckpiece.
Nicki Minaj

Priyanka wasn't the only one who stole the show with her train. Rapper Nicki Minaj wore an extravagant silk taffeta gown with black vinyl roses trapped at the hem. Minaj's lengthy gown sure didn't trap her foot. The front of the high-low gown was as short as the back was long.
Beyonce

The currently pregnant-with-twins Bey had eye-popping gown trains at two back-to-back Met Galas. In 2012, she wore a revealing number for the theme, China: Through the Looking Glass, and followed it up next year with a strapless number with matching thigh-high boots... and that orange train.
Nina Dobrev

The Vampire Diaries star was literally stitched into this Donna Karan backless gown that looked like liquid silver.
Sarah Jessica Parker

Trust Sex and the City fashionista Sarah Jessica Parker to add her own touch to a red carpet look. Her gown's bouncy white train had designer's name Oscar de la Renta embroidered on it. She told Vanita Fair magazine, "I said to Mr. de la Renta, please let me use scarlet embroidery thread, and splash your name across the back." Atta girl.
Kim Kardashian

Husband Kanye West was with Kim every step she took on the stairs at the Met Gala in 2015. She was a buxom goddess in her feathery white gown and drew flak for copying Beyonce's 2012 see-through look. The resemblance is striking.
Charlize Theron

The leggy Mad Max star was a sight to behold in a simple canary yellow gown with a mega train. Started in the Dior couture ateliers in Paris, the dress was completed in Cannes just a few hours before she took to the red carpet.
Zoe Saldana

Action star Zoe made the biggest entrance of the night in a whimsical peacock gown by Dolce & Gabbana in keeping with the evening's theme, Manus x Machina: Fashion in an Age of Technology.

Rita Ora

The MTV Video Music Awards usually have performers competing for the skimpiest outfits. Pop's bad girl Rita Ora changed that in 2013 with her icy blue outfit with a feathery skirt that was so long, her stylist had to follow her around for assistance.
Rihanna

The edgy singer's incredible gold gown at the 2015 Met Gala was designed by Chinese couturier Guo Pei. The train stretched out to a dozen steps behind her and required the help of three assistants in black suits, including her stylist Mel Ottenberg. Twitter went crazy with funny memes of the gown that compared it to everything from a fried egg to pizza base. News channel Real Telangana spoofed it in a news clip that went viral on Youtube.
There you have it. Our pick of the most controversial trains in red carpet history. Which is your most loved/ hated among these celebrity looks?