It would not be wrong to say that Indian TV is all about drama, which is also something viewers want to see. To a large extent, the TV series have managed to achieve this daily dose of entertainment through various stories, and their increasing online experiences are a testament to their success. Unfortunately, however, these overly dramatic sequences have taken over reality shows that mostly rely on all-over stuffing rather than shows. And the recently released Khatron Ke Khiladi season 11 proved us right when they recreated the "Frying Pan" scene of Madhurima Tuli with her ex-boyfriend and showrunner Vishal Aditya Singh.


View this post on Instagram

The infamous scene between contestants Maheck Chahal and Vishal was recreated. The channel also tweeted on the photo with a caption: "#VishalAdityaSingh ke bigg boss experience ne sikhaaya ki unko ladkiyon se bach kar rehna chahiye." For starters, Madhurima hit Vishal with a frying pan repeatedly in one of the episodes of Bigg Boss 13. She did it when Vishal provoked her by throwing water in her face. It was one of the most talked about scenes on the show. But using the infamous scene to promote Khatron Ke Khiladi 11 was the lowest the creators could ever go.
Click here to know what type of relationship Nikki Tamboli wants ..!!
We've already seen the fallout from this promo in real life as Madhurima appeared asking the creators of Khatron Ke Khiladi 11 to stop dragging their personal issues to public platforms. In a long note, Madhurima wrote that her mother has been crying since that morning, adding that she had been hospitalized before due to the same incident. "You don't know anything about my personal relationship with the person who did the accident. Every relationship in the house was toxic and everyone made mistakes in the same house. Let me go ahead. It's a request, please consider this video a humble request not to play on feelings my family over and over again. Thank you," Madhurima wrote.


View this post on Instagram

"SIDNAAZ" to host Big Boss 15 OTT premiere .. Click Here to know more !!
All said and done, we just want to remind the Khatron Ke Khiladi season 11 cast that there's no need to dig out ancient skeletons to run TRPs on the show and keep audiences hooked to their TV screens. The two of them went through the bickering phase a long time ago. You too can go ahead. Let them enjoy their peace. The show is already popular in all departments for its resourceful concept. Viewers want to see their favourite stars perform reckless stunts. Just show them their performance. Don't make them a part of these fillers at the cost of hurting someone's feelings. This is not entertainment, it cannot be.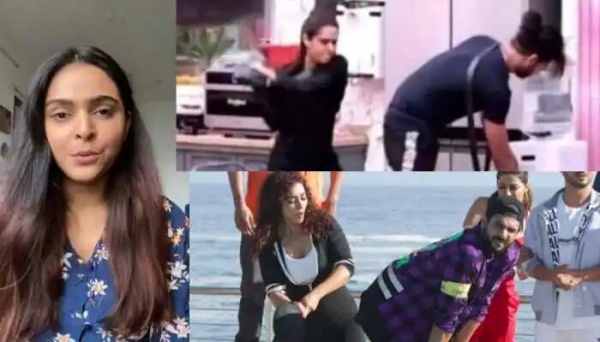 Actress Shilpa Shetty's husband RAJ KUNDRA ARRESTED in alleged Porn Making case !!
So please stop and let the audience be entertained by those high-octane stunts and nothing else.
Khatron Ke Khiladi and Big Boss contestant's Rahul Vaidya and Disha Parmar's Mehndi Night !!
Subscribe to our Newsletter for Daily Updates
Catch us for the Bollywood latest news, Khatron Ke Khiladi 11, Bollywood gossip, bolly4u, Bigg Boss 14, big boss 13, big boss malyalam, Nikki Tamboli, Kavita Kaushik, Disha Parmar, Aly Goni, Rahul Vaidya, khatron ke khiladi, Madhurima Tuli, Vishal Aditya Singh, coronavirus news and much more.