Bollywood actor Akshay Kumar visited the remote Tulail district along the Line of Control (LoC) in the Gurez Valley in Jammu and Bandipura district in Kashmir on Thursday. He went there to meet the paramilitary Border Security Forces that guard the Line of Control with Pakistan. Official sources said that the actor arrived in the village of Neeru by helicopter around 12 noon. It is scheduled to interact with the army and soldiers of the Border Security Forces BSF in the Neeru village of Tulail district.
The sources said, "Bollywood actor Akshay Kumar will also interact with the local people in remote areas who in these villages are facing difficulties such as heavy snowfall and great inaccessibility."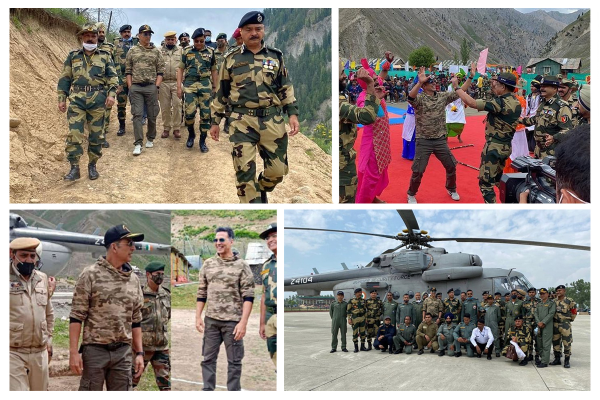 Click here to read about Akshay KUmar starrer Ram Setu's 45 junior artists tested corona positive.
Through his Twitter account, BSF posted that the Bollywood actor visited an outpost in Gurez sector of North Kashmir. A video released by the paramilitary forces showed Akshay arriving by helicopter and being greeted by Border Security Force personnel at the helipad.
The Bollywood actor not only clicked pictures with his jawans, but also danced with them. He also paid tribute to Brave Jawans of India who sacrificed their lives for the country by laying a wreath at the war memorial.
View this post on Instagram

Sharing some pictures from his visit, Akshay wrote, "Spent a memorable day with the @bsf_india bravehearts guarding the borders today. Coming here is always a humbling experience meeting the real heroes My heart is filled with nothing but respect ."


View this post on Instagram

Akshay paid respects to the BSF soldiers for their supreme sacrifice:
Akshay Kumar participated in the wreath laying ceremony and paid tribute to the soldiers who gave their lives for the country. The official BSF Twitter user shared photos from the ceremony.

Click here to know about which big actor joined the cast of OMG-2 with Akshay Kumar.
Meanwhile, Akshay announced earlier this week that his next film, Bell Bottom, will be released in cinemas around the world on July 27. The spy thriller was scheduled to be released in theaters on April 2, 2021, but was postponed after theaters closed. In the middle of the second wave of the coronavirus pandemic. Theaters remain closed in many parts of the country.
View this post on Instagram
Subscribe to our Newsletter for Daily Updates

Catch us for the latest Bollywood news, coronavirus updates, coronavirus vaccine, Bollywood movies, bollywood latest news, bollywood latest updates entertainment news, coronavirus news, Akshay Kumar, Akshay Kumar net worth, Akshay Kumar movies, Full form of BSF, Greater Kashmir,and much more.