"Sanju" is still a hit even after running for quite some time now. The movie showed us Sanjay Dutt's life and his journey with drugs, girls, crime and then how he ended up where he is. The movie did so in the most impressive manner one could imagine yet there are some facts even this movie did not mention, may be due to personal reasons or time limit we can never be sure. So on his 59th Birthday, we bring 5 facts about Dutt that were not even mentioned in the movie, have a look-
His relationship with Tina Munim, now commonly known as Tina Ambani.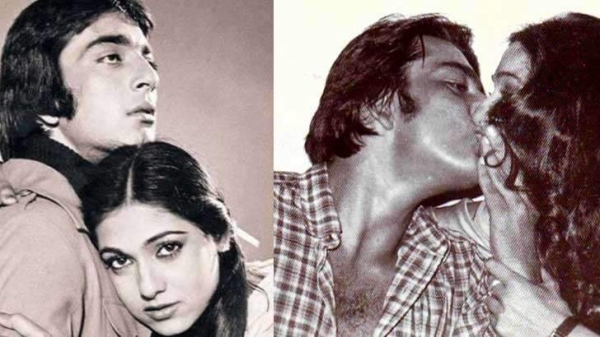 In Yasir Ussman's autobiography which is actually the uncut and unedited story of Sanju, you will find Tina Munim played an important role in Sanjay Dutt's life. Now known as Tina Ambani, Sanjay Dutt's relationship with his first co-star Tina Ambani created quite the buzz during their time. Sanjay was very possessive about Tina and also ended up staring Rajesh Khanna once in a threatening manner after rumors had started about him dating his souten co-star Tina. Even though during this time Tina had already broken up with Sanjay Dutt, he was still very protective about her. This was also not shown in the movie as Rajkumar Hirani did not want to involve the late superstar, Rajesh Khanna.
His two failed marriages before Maanyata Dutt.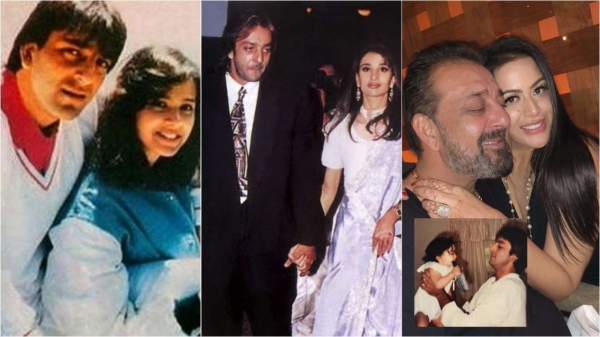 This is a fact which was probably known by everyone whether they follow Bollywood or not. It can be assumed maybe due to this reason Hirani chose not to show it in his movie. Before his happy marriage with Maanyata, Sanjay Dutt had two marriages. His first wife was to Richa Sharma, an actress/ model who was discovered by Dev Anand. The duo separated after the birth of their first kid and after this Sanjay Dutt again found love with Rhea Pillai. Rhea and Sanjay's marriage was short-lived and ended very soon. Also, his first wife's death due to cancer had a very deep impact on him and he was in a very low path during this time. This fact was also known to all and people were expecting to see this, but they could not even find one scene or even the mention of all this in the Ranbir Kapoor starrer biopic.
His First child- Trishala Dutt.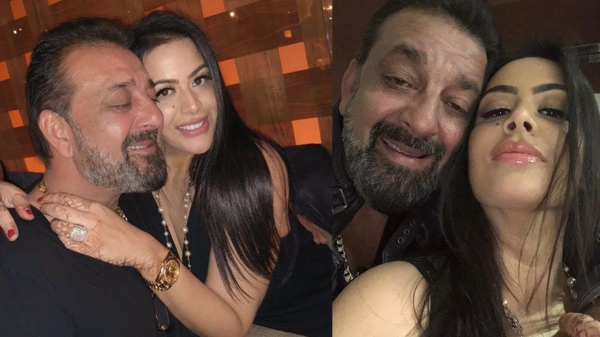 Before his twins, Sanjay Dutt had a daughter with his first wife Richa Sharma. Although his daughter, Trishala has been born and brought up in the US by her maternal grandparents. She is highly popular in Bollywood and stays in touch with her father and his current wife constantly. She is also very popular on social media yet there was not even a glimpse of her in the movie.
His controversy with Madhuri Dixit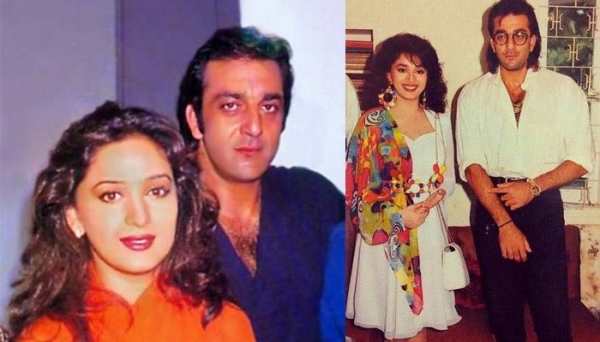 The yesteryear's most loved affair was that if Madhuri and Dutt. It is safe to say that maybe Hirani ignored it because the actress is still working in Bollywood as an established actor. The duo has worked together in many blockbusters like Thaanedar, Khalnayak, and Saajan. On the contrary, Sonam Kapoor played the role of which was a sum of all his girlfriends and therefore an imaginary character created by the director just so the viewers may take note about his past relationships. The duo although is all set to come together on the screen once more in the upcoming movie Kalank.
Grabbing Shahrukh Khan by the neck.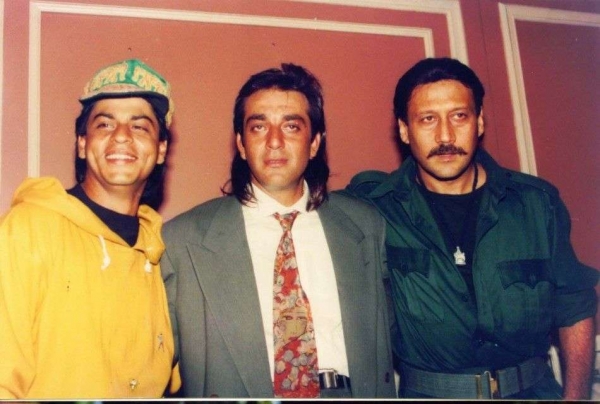 Yes, you read that right! This totally happened and Sanjay Dutt grabbed King Khan. Reportedly Shahrukh Khan, Sanjay Dutt along with Amjad Khan were in Mehboob studios when the Saajan star attacked Shahrukh Khan as he ignored Amjad Khan. Sanjay Dutt was enraged by this and grabbed him by the neck only to be saved by friends. This incident is very famous and serves as a highlight of his life yet there was no mention of it in the biopic.