It's been years since the affair between Reena Roy and Shatrughan Sinha ended yet the issue is making headlines again after the actor released his biography recently. In a leading interview a few days back Sonakshi Sinha broke her silence with her father's longtime and controversial affair with Reena Roy. Sonakshi is the daughter of the actor Shatrughan Sinha, who was said to have an extramarital affair with Reena Roy.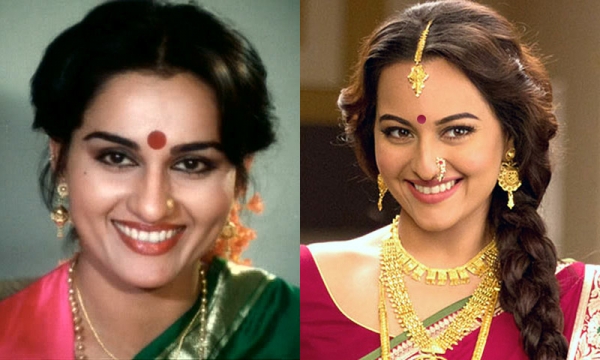 She said,"I think it (Shatrughan Sinha and Reena Roy's affair) happened when I was not even born. I found out when I was growing up and started understanding things. But I'm not going to crucify my father for something he did years back. It is his past. And everybody has a past. So, I don't think too much about it. Nor do I pay attention to it. Like I said, it just makes really good headlines and juicy gossip to some people. But for me, this is my family."
Although Sonakshi has a striking resemblance to Reena Roy, on being questioned about this she bluntly refused and said she resembled her mother. Sonakshi said, "I feel I look like my mom (Poonam Sinha)."
Although it is no secret that while Shatrughan Sinha was married to Poonam he was emotionally very much attached to Reena for quite some time. Producer Pahlaj Nihalani also told about an incident when he cried for Reena. He said, "Sonu (Shatru) was shooting at night for a film called 'Telephone' (1985) in a hotel in Juhu when I went across and repeated Reena's message to him," The message here was how Reena said clear no for another film with the star unless he marries her. Reena's exact words to Pahlaj were,
"Tell your friend to make up his mind. If he gives me an answer, I'll do the next film with him. Otherwise, it's a 'No'. I've made up my mind that if he doesn't marry me, I'm going to get married in eight days" Pahlaj gave the details. 'He called her up and cried like a baby. For the first time, I saw him cry; he was very emotionally involved with her. That was the one time I spoke up and told him, 'Let go, let her get married.'"
The controversy has sparked a very heated argument on how Sonakshi resembles Reena a lot but both Sonakshi and her mom have been seen to take the incident very gracefully and with a lot of poise.
Stay tuned for more.