Indians enjoy their food and movies very seriously. All over the world Indian movies are as famous as Indian cuisine. Love it or hate it- you just can't ignore it. The entertainment industry with all its glory and pomp has taken over the world and there might be very few countries that are not familiar with the screen presence of SRK or Big B or the charms of Aish and the more recent Piggy Chops. Indian movie industry has delivered some of the finest actors over the last few decades. Their acting has not only been praised at various Film awards but also many actors have received honorary awards from various countries. Among them, the countries with the most fan following would be Pakistan, Afghanistan, Malaysia, China, Poland, Egypt, Taiwan, Peru and Germany.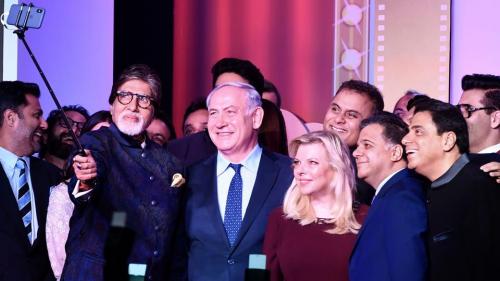 Pakistan and Afghanistan have long been fans of Bollywood productions. Despite the fact that Pakistan and India do not have much of a cordial relation post-independence, however, Amitabh Bachchan and SRK are household names and the young generation consider Bollywood actors their own role models!
Malaysia also has a good fan following for Bollywood movies. People might not relate to anything Indian but they would surely recognize Indian films and songs! SRK even received an honorary award from the Government of Malaysia. Films like Dilwale and Kuch kuch Hota Hai still run on houseful conditions in theatres.
Egypt also has a fan base for Bollywood actors. In fact, back in the 80s, there was so much frenzy for Bollywood movies that the indigenous movies of Egypt were losing their market and the Government decided to ban Indian films. Recently "Chennai Express" earned a lot of praise and hits in the country.
Poland has also been a home for Bollywood movies. In 2014 Sajid Nadiawal produced a movie "Kick" which featured Salman Khan, Randeep Hooda and Jacquelin Fernandez. Much of the action was shot in Warsaw which also worked in favour of the country in terms of attracting Indian tourists to visit Poland. The movie was released in the country and earned handsome revenue.
Peru started its screening of Indian movies back in the 1970s with movies like "Mother India" and "Mera naam Joker". Later this trend again came back in action in the 2000s with movies like "My name is Khan", "Guzaarish" and "3 Idiots". Bollywood movies and songs have long been intertwined in the lifestyle of Peru and over the years there have been Bollywood themed parties and even dance classes solely for the Bollywood songs. "Chennai Express" became the first Hindi movie to be released in Peru on the same date as India. The Latin Americans value their love for the family a lot and maybe that is something they can relate within the Indian movies. The dance, dramatics and foot tapping music of Hindi movies motivate them to fall in love with the Indian cinemas.
Berlin is also a big fan of Shah Rukh Khan. There are channels which regularly telecast movies like Devdas and DDLJ for the diehard Bolly fans out there. Young girls often dress up or take inspiration from the Bollywood movies and it shows in their demeanour.
Another place worth mentioning is Switzerland. Almost over 200 films have been shot there and that has led to the idea of a romantic getaway in Switzerland among the Indian people. Nowadays, tour operators include the shooting sites of movies in their list of must-visit places. Not only does this boost their tourism but also garners attention worldwide.
The excellence of Indian actors and directors has created this huge fan base globally.