The Bollywood wedding season continues in full swing and one of the most awaited royal weddings is the wedding of Vicky Kaushal and Katrina Kaif. According to a report, Vicky and Katrina will be married on December 9 at a luxury resort in Sawai Madhopur, Rajasthan. The three-day wedding will take place at a heritage property in Chauth Ka Barwara, about 35 kilometers from the town of Sawai Madhopur. Chauth Ka Barwara is famous for the century-old Chauth Mata temple on the top of the hill.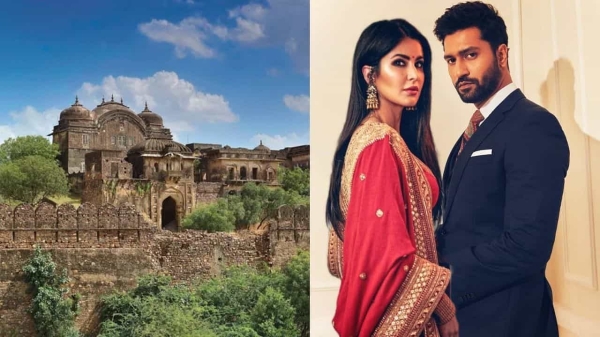 According to an informed source, the wedding party will start from December 7 with Sangeet, followed by the 8 at Mehendi and, the wedding ceremony on the 9. The reception is said to be on the 10th. Guests are said to be required to land at the nearest airport in Jaipur, while people with a charter flight can land at the Sawai Madhopur heliport. Vicky and Katrina are expected to arrive at the wedding venue on December 6. Close friends and family of the couple will reportedly be staying at the wedding venue, while guests such as Rohit Shetty, Karan Johar, Varun Dhawan and, his wife Natasha will be staying at a five-star hotel in Sawai Madhopur.
A Mumbai dance company has reportedly arrived on the scene and is rehearsing the Katrina Kaif folk dance numbers. A source told: "Guests will be given a secret code to enter. They will not be allowed to bring their mobile phones after a certain point so that no photos or videos are leaked. Drivers transporting guests from Sawai Madhopur and Jaipur will receive basic phones and not smartphones so that they do not click on the photos of the guests.
Also Read -
45 hotels booked in Ranthambore for Katrina Kaif & Vicky Kaushal's wedding: Report