It was a magical night on Indian Idol 12 with veteran singers Kumar Sanu and Kavita Krishnamurthy, who sang and performed many songs together in the '90s. The theater is talented singing. But among all of that, it was Arunita Kanjilal and Pawandeep Rajan who surprised the fans with their amazing performance tonight.


View this post on Instagram

Aditya Narayan Has Planned A Surprise for Pawandeep and Ashish's Fans !!
When Arunita sang in the songs of Kavita Krishnamurthy, Hum Dil De Chuke Sanam and Maar Dala, fans did not hesitate to praise her singing skills. They felt that Arunita did justice to the songs and even Kavita was touched by her performance and said she was looking forward to hearing the recording. They even sang Dola Re Dola together.


View this post on Instagram

Click here to see Sanjay Dutt's badass new look as ADHEERA from KGF 2
Pawandeep Rajan was not far behind, as he stunned everyone when he sang in Tu Hi Re from Bombay (1995) sung by Hariharan and Kavita Krishnamurthy. While some fans praised Pawandeep as the winner of Indian Idol 12, some said they wouldn't mind Arunita and Pawandeep sharing the winner's cup together.


View this post on Instagram

Is Kartik Aaryan Doing Ekta Kapoor's "FREDDY" ??
Meanwhile, host Aditya Narayan announced on Sunday's episode that Indian Idol 12 will feature the top 5 contestants. This means that the contestant will definitely be eliminated a week before the Grand Final. who will be? Keep checking this space for the latest updates on Indian Idol 12.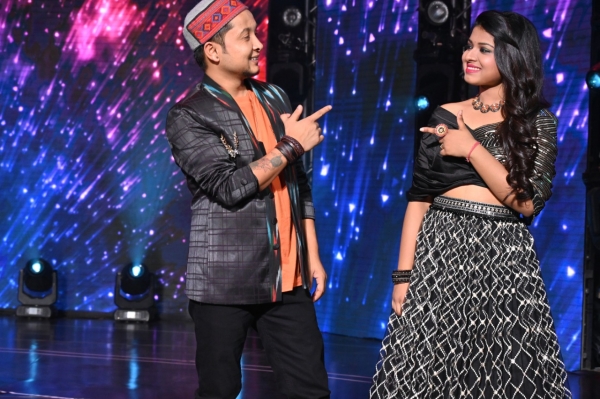 Subscribe to our Newsletter for Daily Updates
Catch us for the Bollywood News,Indian idol updates, aditya narayan, pawandeep rajan,ashish kulkarni,Indian idol,Indian idol 12,bollywood latest updates, Bollywood songs, Bollywood movies, Bollywood gossip, Bollywood actor, Bollywood actress, Bollywood comedy movies, and much more.