Nora Fathi surprised her fans when the trailer for Bhuj: The Pride of India showed a large bloody wound on her forehead. Now, the actress reveals that the injury was not the result of some fancy makeup techniques or prosthetics, but rather was a real injury that she sustained while filming. Nora says the injury occurred when a colleague's gun accidentally struck her in the face and the filmmakers decided to use it to take a shot.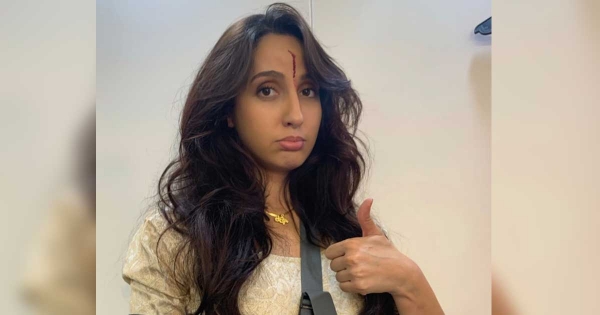 "We were filming for the action sequence and the director wanted to film the scene in one shot with a single camera, so the co-actor and I trained in choreography where he points a gun at my face and takes me out. the gun. "Nora told a leading newspaper.

Also, Read - Ajay Devgn To Star In Hindi Remake Of Telugu Hit Film Naandhi
"Things went perfectly in rehearsals that were five minutes before the show, however when we started shooting the actual shot, the timing stopped and the actor accidentally threw the gun in my face, due to the metal end of the gun that it was certainly too heavy, it hit my forehead causing a wound and a torrent of blood ".
Incidents like this often happen on sets and these weren't the only ones Nora experienced. "Later that day, we filmed for another action scene, which was a chase sequence that required running, moving, and quick movements. While filming, I fell, injured my fingers badly and because of that, I had to use ropes for the duration. Overall, it was a physically challenging sequence, where it hurt a lot because I did all the scenes myself without any double tricks, but I wear my scars with pride because it gave me a great learning experience that I appreciate.

Also Read - Most Awaited Film Of Sidharth Malhotra Shershaah Also Starring Kiara Advani To Release On Amazon Prime Video In August