PM Narendra Modi is always known for working things in an exceptional way, something out of the ordinary. And once again he has expanded his campaign seeking the attention of the Bollywood celebrities. He posted a number of tweets asking the celebs to urge people to exercise their voting rights and vote in the upcoming Lok Sabha elections.
You Might Also Like: Prime Minister Narendra Modi tops the list for most searched Indian 2017!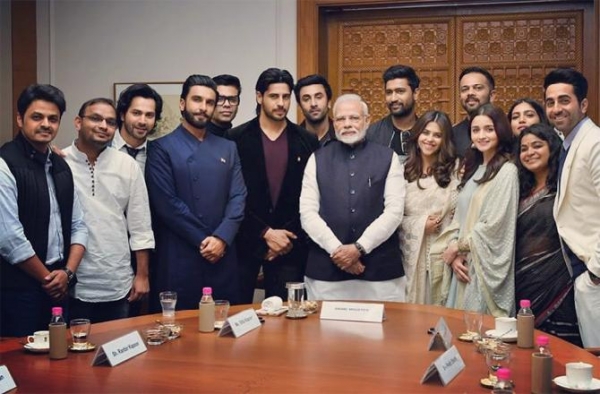 He tagged people from various sections of the society, including politics, films, media, social work and sports. Mostly quoting dialogues from films, Modi reached out to Bollywood actors on the famous twitter handle.
On twitter, Modi made an appeal to some renowned faces of Bollywood including Amitabh Bachchan,Karan Johar, Salman Khan, Shah Rukh Khan, Bhumi Pednekar, Akshay Kumar, AyushmannKhurrana and Aamir Khan to appeal to the youngsters to cast their vote.
The step is seen as an exemplary one as India is a country highly influenced by Bollywood and such a step shall help in raising awareness amongst the masses about their voting rights.
In a tweet to Shah Rukh Khan, Amitabh Bachchan and Karan Johar that jested on the famous tag line- KabhiKhushiKabhieGham, Modi wrote, "Urging @SrBachchan, @iamsrk and @karanjohar to creatively ensure high voter awareness and participation in the coming elections. Because...it's all about loving your democracy (and strengthening it). :)"
And to this KJo responded by writing, "We as a fraternity are dedicated to the cause of creating high voter awareness and will make sure every endeavour is made to communicate the power of voting for a solid and Democratic India! Jai Hind!"
Akshay Kumar and Aamir Khan also tweeted promoting the idea.
Amir Khan wrote on Twitter, "Absolutely right sir, Hon PM. Let us all engage as citizens of the biggest democracy in the world. Let us fulfil our responsibility, and avail of our right to get our voice heard. Vote!"
While Akshay Kumar admired Modi's appeal and wrote, "Well said Narendra Modi Ji. The true hallmark of a democracy lies in people's participation in the electoral process. Voting has to be a superhit prem katha between our nation and its voters :) "
Quoting the famous comedy "Andaz Apna Apna", the PM wrote to Salman Khan saying, "Dear @BeingSalmanKhan and @aamir_khan, It is time to inspire and motivate youth in your own Andaz (style) to vote so that we can strengthen Apna (our) Democracy and andApna country."

Writing to the female Bollywood fraternity he wrote "Requesting @deepikapadukone, @aliaa08 and @AnushkaSharma to urge people to vote in large numbers for the coming elections. As renowned film personalities whose work is admired by many, I am sure their message will have a positive impact on our citizens,"

Not just this he further tweets addressing Ranveer Singh, Vicky Kaushal and Varun Dhawan and said, "Many youngsters admire you. It is time to tell them: Apna Time Aa Gaya Hai and that it is time to turn up with high Josh to a voting centre near you."

Sure this unique voting campaign will spread awareness amongst the masses and more people will come forward to vote in the upcoming elections.
You Might Also Like: Narendra Modi

You Might Also Like: PM Narendra Modi accepts Fitness Challenge by Virat Kohli!