Navratri also spelled Navaratri or Navarathri, is a nine nights (and ten days) Hindu festival, celebrated every year in India. Navratri comes from the Sanskrit word 'Nava' which means nine and 'Ratri' that means night. It is celebrated in different ways in different parts of the country. Theoretically speaking, there are four seasonal Navratri. However, This year Navratri would start from October 17th, 2020, and would end on Sunday, 25 October 2020.
Navratri is a nine-day festival that signifies the victory of good over evil. It is believed that worshipping Goddess Durga during Navratri can help get salvation and seek her blessings for the future. Goddess Durga is a symbol of Shakti which means ultimate strength.
Navratri 2020
This year Navratri would start from October 17th, 2020 and would end on 25 October 2020.

Navratri falls in the Hindu month. From observing fasts to worshipping nine forms of the Goddess, Hindus around the world celebrate the festival.

Puja-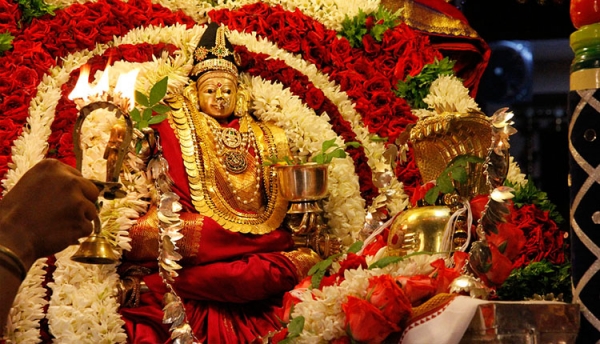 Early morning hours of the nine days are considered the most auspicious time of the day for Durga Puja. Sthapana of the Durga idol and Kalash with coconut and mango leaves is done on the first day of the Durga Puja. It is also a custom to sow barley seeds in a pot and water it daily. On all the nine days prayers are conducted. All the devotees must recite the Durga Saptshati. On the ninth day of Navratri, Kanya Pujan is performed in which nine girls (who haven't reached their sexual maturity) are invited to the puja at the house and are fed and their feet are touched to take the blessings. The nine girls are considered to be nine forms of goddess Durga and are worshipped on the day.
Dates for 2020 Navratri
1) Day 1 (Pratipada)- Ghatasthapana, Chandra Darshana Shailputri Puja
2) Day 2 (Dwitiya)- Sindhara Dooj, Brahmacharini Puja
3) Day 3 (Tritiya)- Gauri Puja, Saubhagya Teej Chandraghanta Puja
4) Day 4 (Chaturthi)- Kushmanda Puja, Vinayaka Chaturthi
5) Day 5 (Panchami)- Naag Puja, Lakshmi Panchami Skandamata Puja
6) Day 6 (Shasthi)- Skanda Sashti, Yamuna Chhath Katyayani Puja
7) Day 7 (Saptami)- Maha Saptami, Kalaratri Puja
8) Day 8 (Asthami)- Durga Ashtami, Mahagauri Puja Annapurna Ashtami, Sandhi Puja
9) Day 9 (Navami)- Rama Navami
10) Day 10 (Dashami)- Navratri Parana