10 times our B-town celebs have repeated or copied outfits!
Many of us take our fashion inspiration from our favorite Bollywood celebrities. But did you know innumerable times they take inspiration from the west as well or just wear something worn by another star before?
Although there is nothing wrong with the repetition of outfits it surely catches media and public's eye. Let us have a look at some of the actresses who repeated outfits.
Deepika Padukone and Victoria's Secret angel- Josephine Skriver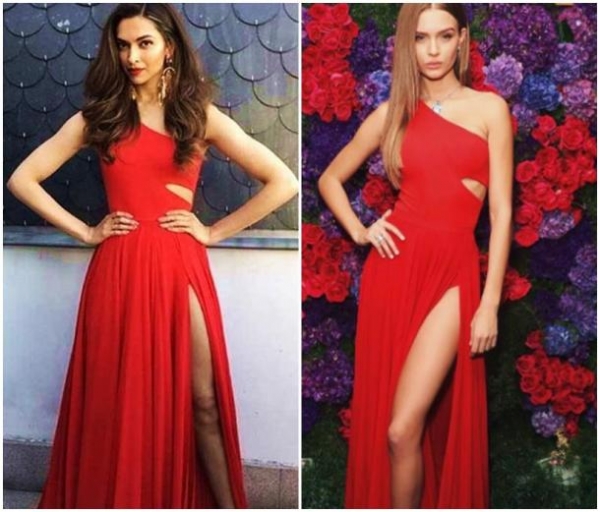 Deepika Padukone and Josephine Skriver wore the Prabal Gurung gown. Who do you think wore it better? Our vote goes to Deepika hands down. Paired with those luscious curls and bold earrings she looked absolutely ravishing.
Dia Mirza and Karishma Kapoor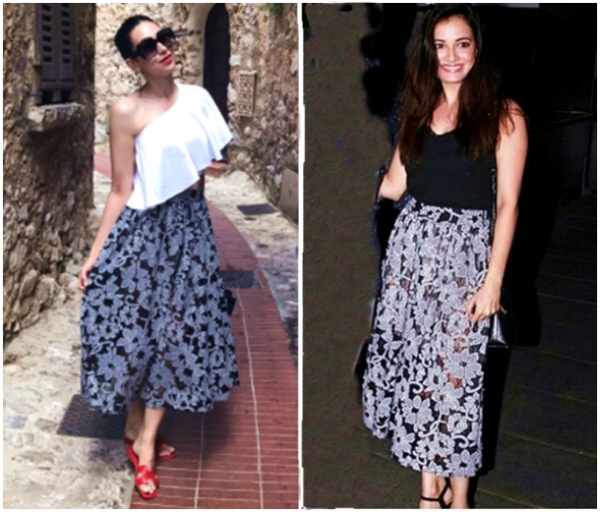 Both the actresses wore the same grey skirt from Zara. The only difference was that Karishma paired it with a single shoulder white top whereas Mirza wore a black sleeveless top.
Priyanka Chopra and Kangana Ranaut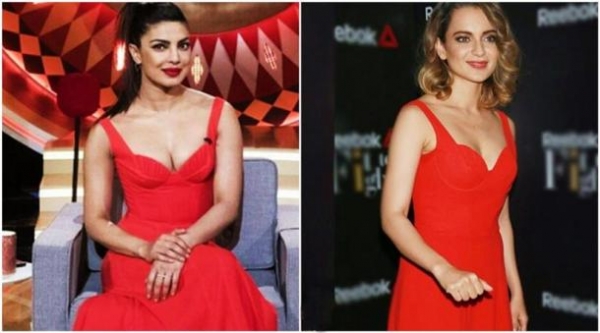 Priyanka Chopra wore an outfit previously worn by Kangana Ranaut. Priyanka wore it at ABC's talent show The Gong Show where she looked absolutely gorgeous. But the outfit that took off everyone's breath was worn previously by Kangana Ranaut when she went to attend the Reebok Fit to Fight awards in New Delhi.
Disha Patani or Gigi Hadid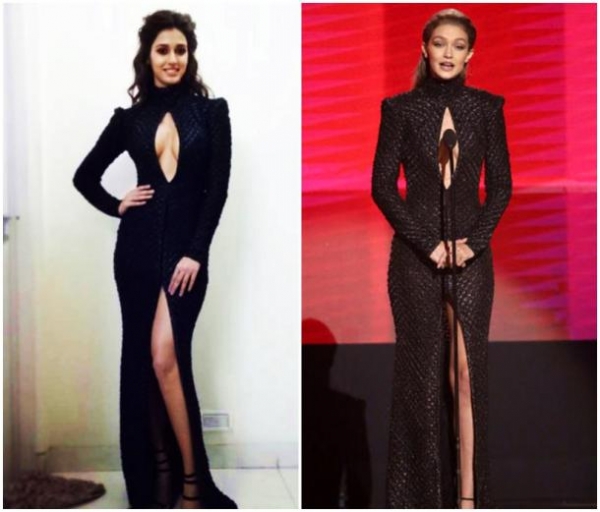 Disha's sexy keyhole black gown looked stunning when the actress walked the red carpet on Filmfare. But what you did not know is that the gown was previously worn by Gigi Hadid during the AMA presentation.
Alia Bhatt and Kalki Koechlin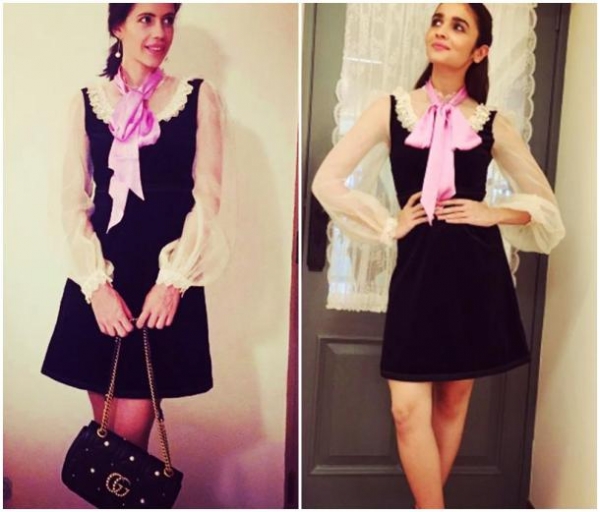 The cute Gucci dress was worn by both the actresses. Both of them dressed up like lovely school girls and looked no less than dolls. The adorable pink laces just added to the charm of the already appealing dress but we think Alia carried it better. Sorry, Kalki better luck next time!
Parineeti Chopra or Kriti Sanon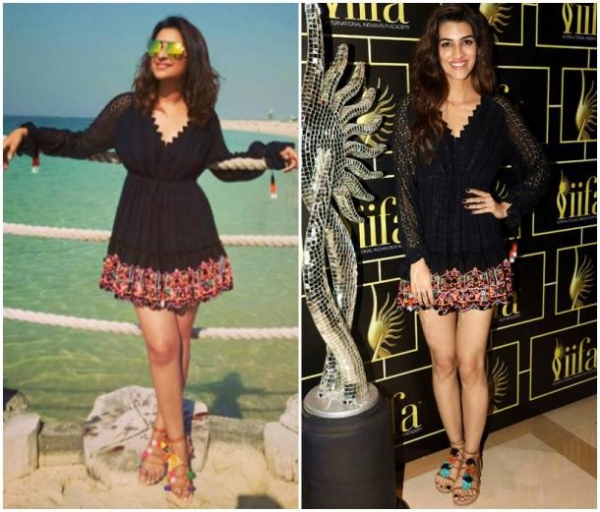 Hemant and Nandita's bohemian black dress was loved by all. Parineeti Chopra and Kriti Sanon were both seen wearing this trendy dress paired with funky accessories that looked stylish and cute at the same time.
Vaani Kapoor or Serena Williams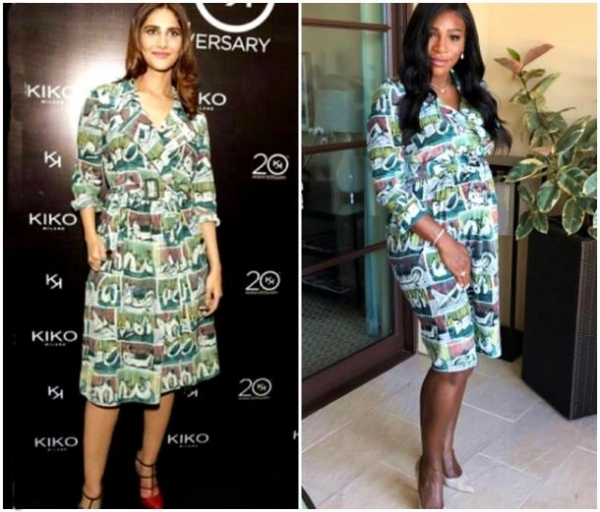 The star who gained fame with Befikre alongside Ranveer Singh looked stunning in a printed trench dress by Burberry with a belt cinching at the waist. While the actress looked super chic in this dress the same dress was sported by the sports sensation Serena Williams sometime back.
Aishwarya Rai Bachchan or Kristin Chenoweth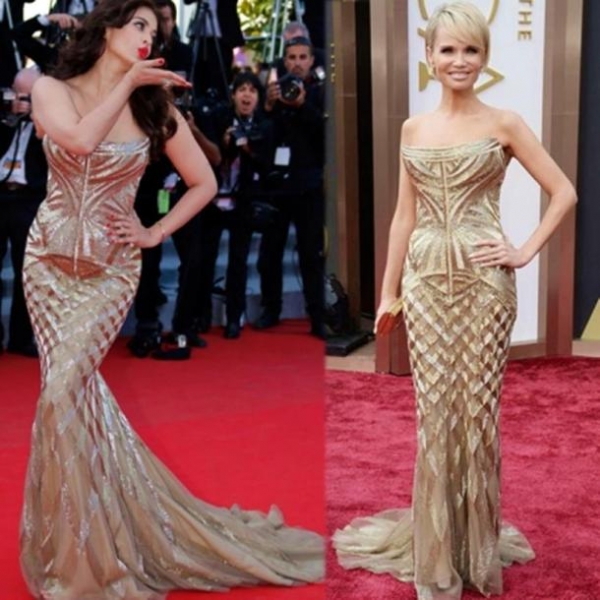 The world went gaga when the former Miss. World wore the Roberto Cavalli gown to the Cannes film festival. But little did you know that the same gold strapless outfit was seemed to be taken from Kristin Chenoweth's wardrobe!
Deepika Padukone and Katrina Kaif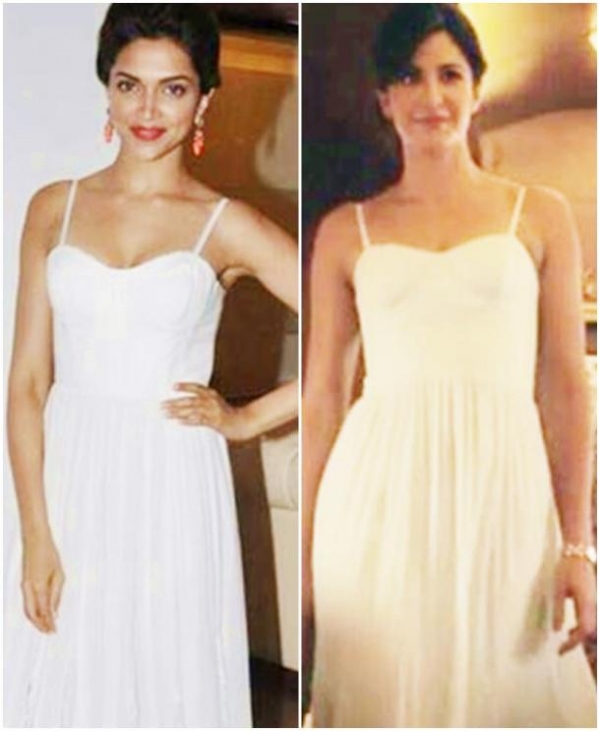 Deepika rocked this very charming Alice & Olivia white maxi dress to a film festival that Kat had previously worn in a TV commercial. Both the actresses looked gorgeous nevertheless.
Malaika Arora and Paris Hilton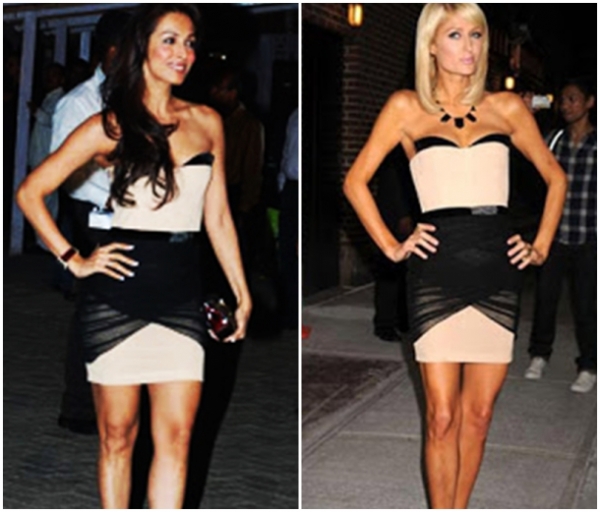 Often in the news for her impeccable taste in fashion and clothing, Malaika Arora was seen wearing this very chic monochromatic dress which was previously worn by Paris Hilton.