Textile revivalist and Kirron Kher's favourite sari designer Gaurang Shah celebrates the grace of Indian women and their hunger for beautiful handlooms
Gaurang Shah is a familiar face on the revered Textile Day at Lakme Fashion Week every season. The front row for his show has businesswomen, artists and actresses jostling for space. The Hyderabad-based designer is the go-to guy for India's Got Talent judge Kirron Kher when she wants to look immaculate. If you're wondering where she gets those rich brocades from, episode after episode, this designer is responsible for many of them. He has dressed some of the industry's most famous faces – Vidya Balan, Esha Gupta and Tabu.
What the front rowers probably don't know about this low-key designer is that he's a relentless textile revivalist and supports a multitude of weavers at the grass-roots level. As he sets about experimenting with other silhouettes on Indian textiles, he reveals his plans and what makes his saris so special.
It's almost a decade since your association with Kirron Kher began. How has it unfurled?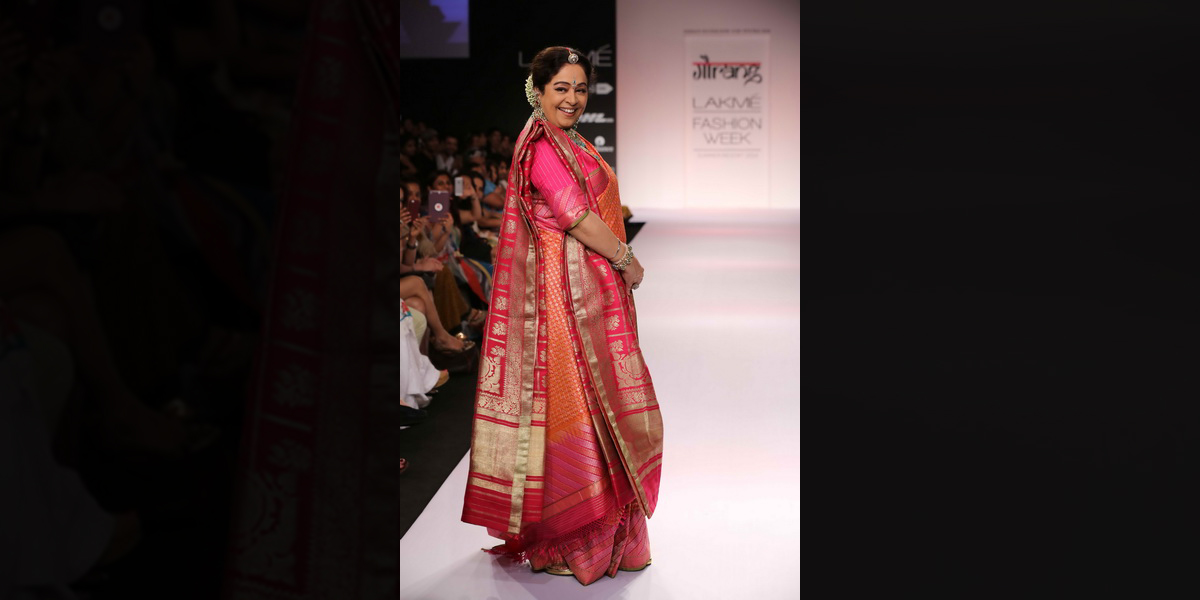 It is a journey that remains a neverending bond. Kirron Kherji has tremendous eye for details and admiration for the work that we have been doing over the years to promote Indian textiles. It is the timeless innovation that we continue to create that continues to dazzle her. She is among the first celebrity clients who looks forward to our collections with immense anticipation and promotes it with all her heart.
After reviving textiles like Patan Patola and Paithani, what are you working on?
Currently, we have set the mood of our textile design for the summer season. The anthology is a play of white tones on sheer and flowy fabrics.
Apart from this, I am working on cross culture techniques, textures, colours and dyes. For every season, our aspiration is to revive a vintage Indian textile tradition that reflects the grandeur and beauty of Indian women and their desire for beautifully handcrafted handlooms.
Apart from being a textile revivalist, you are also supporting the industry by supporting artisans a
Last year, I collaborated with the Crafts Council of Telangana for as 'Kausalyam'. The show promoted Indian art and clusters in Telangana. The aim was to uplift the weavers at the grassroot level. Kausalyam reflects a continuation of my label's focus to provide marketing opportunities for artisans, understanding the craft and the changing needs of the consumers. In Telangana, we'd like to jointly extend support for the revival of textile arts like Ikat, Gadwal saris, and durries of Warangal along with crafts like sheet metal of Chandur, wooden toys of Nirmal, dokra metal craft of Adilabad, Cheriyal scroll painting, silver filigree work of Karimnagar and Bidriware.
What makes a Gaurang sari special?
It is the ability of every 'sari' to capture the aspiration of a woman, her dream fashion piece and weave her strong personality into every bit of the 6-yard fabric. We believe the 'sari' is eternal. It consistently inspires and gives us vast scope to capture the traditions and heritage of India. It is a piece of heritage that one would hand down, a piece of history and emotions from generation to generation.
Which other famous faces have done justice to your clothes?
Vidya Balan, Sonam Kapoor, Taapsee Pannu, Tabu, Ashwini Iyer, Deepshika Deshmukh, Kangana Ranaut, Kajal Aggarwal and Amala Paul.