Bollywood Actress Sarah Ali Khan celebrated her 26th birthday on August 12, 2021. The daughter of Saif Ali Khan and Amrita Singh has repeatedly shown that she has a great sense of humor. Not only in her movies or acting but also in her performance and funny videos captivate the hearts of her fans. From her "Knock Knock" jokes to her "Namaste Darshako" series, Sara's Instagram is a compilation of videos and captions that are sure to elicit a stir of laughs.
Not only the videos, but Sara also writes some very interesting subtitles and Shayari, known as 'Sara Ki Shayari' to her fans who have left them split. In fact, it is a proven fact that no one can ever get bored of Sarah, as her goofy side is always ready to entertain herself.
View this post on Instagram
View this post on Instagram
View this post on Instagram
View this post on Instagram
Sarah also shares a friendly relationship with Saif Ali Khan's wife Kareena Kapoor Khan. The actress has talked a lot about her relationship with Kareena and also appeared on her talk show What Women Want to shed light on their relationship.
Sara Ali Khan shared a video collage on her 26th birthday that tells of her journey so far. The actress shared an Instagram Reel Thursday in which she gave fans a glimpse into her life since her birth.
View this post on Instagram
The first picture shows actor Saif Ali Khan holding baby Sarah Ali Khan while her mother, actress Amrita Singh, watches her. The clip featured memorable moments from her growing up years and ended with a look back at her birthday celebrations this year.
When the clip ends, Sarah and Amrita stand next to her brother Ibrahim Ali Khan in their house and kiss him on the cheeks. In front of them are huge wooden caps with Sarah's name decorated with balloons. Other parts of his house are decorated with balloons in shades of pink. A wall with his picture acts as a background.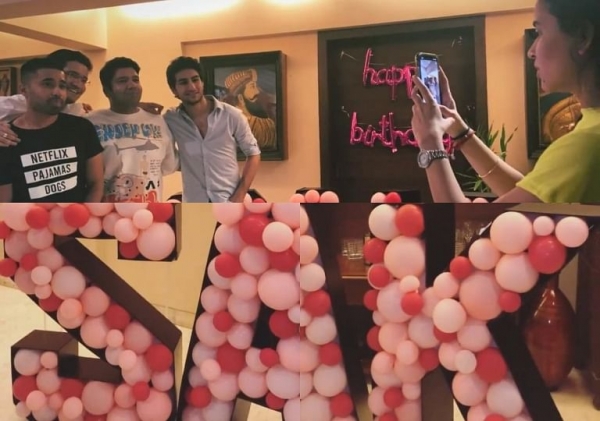 Sharing the post, she said, "A quarter-century is over! 26 years of living, laughing, and loving #SaraKaSaraReels #FamilyWalaFeels." Her post was loved by her fans, who wished her on this occasion. Some of them wrote, "Oh my heart", "So cute", "Beautiful", "Wonderful lady, you are a wonderful dream girl", and "Love, love, love u".
Previously, Sara's friends shared photos and videos of her birthday celebrations online. Group photos and drinks counters with lots of refreshments were taken in the posts.
Sara is Saif's daughter from his first marriage to Amrita. The former couple also shares a son, Ibrahim Ali Khan. She started her career with the movie "Kedarnath." Saif later married actress Kareena Kapoor Khan. The couple has two children: Timur and Jahangir.

Also Read - 5 Times DadaSaheb Phalke Award Winner Nora Fatehi personified royal elegance & looked Stunning