Friday decides the fate of the movies at the box office but 26th May, 2017 Friday is special. This day will not decide any actor's fate at the box office but it will bring to the nation, the life of the 'God of Cricket' 'Sachin Tendulkar' on the silver screen; the moment every Indian is waiting for. 'Sachin: A Billion Dreams' is releasing on the 26th May, at a theatre near you. Before the initial release of the film, two special screenings of the film was held in Mumbai, one for the Members of the Indian Cricket team and the other for the Bollywood fraternity along with Sachin's close family and friends. There was a special invite for the premiere which had a mini bat with Sachin's autograph engraved on it.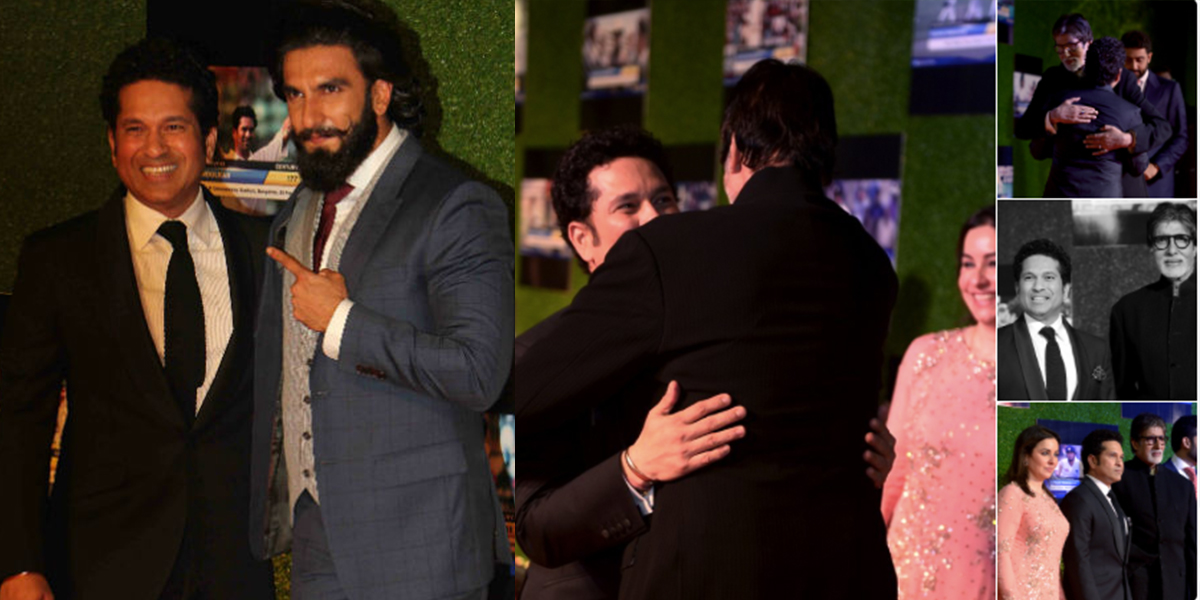 The premiere was nothing less than an award event where almost every celebrity was seen. From Amitabh Bachchan to Shahrukh Khan, Aamir Khan to Ranveer Singh, Mukesh and Neeta Ambani with their son, Abhishesk Bachchan with wife Aishwarya, Sushant and Kriti Sanon and many more were part of Sachin's special day. Former teammates like MS Dhoni, Virat Kohli, Yuvraj Singh, Ravichandran Ashwin were also present. Virat Kohli was accompanied by actress girlfriend Anushka Sharma. The newly engaged couple, Zaheer Khan and Sagarika Ghatke also attended the screening.
The documentary drama is one of the most anticipated biopic of all time. The film has been directed by James Erskine who is known to have directed famous sports biopics as well. The film has been produced by Ravi Bhagchandka and Carnival Motion Pictures under the banner 200 Not Out Productions.
The film will offer a never seen glimpse into Sachin's life. It will showcase the journey of a young boy who became the heartthrob of the nation and is termed as the 'God Of Cricket' today. It will depict the plethora of records embedded with Sachin's name. The film features real life videos from Sachin's personal collection and will also touch one of the darkest phase of Indian cricket history which was match fixing controversy. Music Maestro A.R. Rahman has composed the music for the film.
The movie stars Sachin himself, his wife Anjali, his son Arjun, daughter Sara, MS Dhoni and Virender Sehwag among others. Film will be released in Hindi, Marathi, English, Tamil and Telugu.
Truly Sachin is an emotion for everybody. We are sure people are excited for the film and will go in leaps and bounds to watch the inside life of their inspiration, their idol, MASTER BLASTER SACHIN TENDULKAR on the big screen.