On October 11, 2017 Shraddha Shashidhar was crowned as Yamaha Fascino Miss Diva Miss Universe India 2017, which was emancipated by United Colors of Benetton and co-powered by Reliance Digital. The pageant was held in Hotel Sahara Star in Mumbai, with Peden Ongmu Namgyal assayed Yamaha Fascino Miss Diva Supranational 2017 and Apeksha Porwal was crowned Yamaha Fascino Miss Diva 2017 2nd runner up. The winner of this prestigious beauty competition will represent India in the Miss Universe pageant this year. The winner was crowned by none other than the heartthrob Shahid Kapoor himself, against 15 other girls in the pageant. The acclaimed judge panel included ex Miss Universe and Actress Lara Dutta, Superstar Rajkummar Rao, who's latest film Newton has been nominated for the Oscars , famous director of the blockbuster Ek Tha Tiger Kabir Khan, Boxing champion Vijender Singh and none other than Miss Universe 2016 Iris Mittenaere. The elegant presence of President of Miss Universe Organization Paula M Shugart and President of Miss Supranational Organization Gerhard Lipinski, also added to the charm of the exquisite show.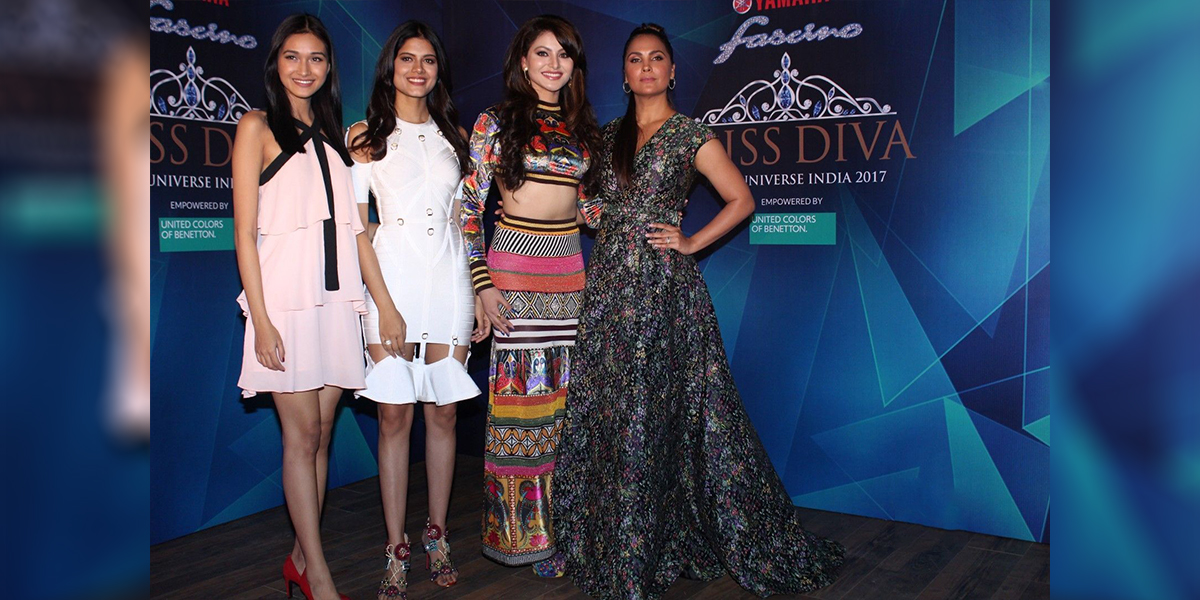 The finale night included performances from various top-shot performers like actress Kriti Sanon, singer and model Anushka Manchanda. The hosts for this glamorous show were Malaika Arora Khan and Yudishthir commonly known as RJ Yudi lightened the mood of the audience and their witty one liners and punch lines kept the audience glued to their seats. ​
The contestants have been undergoing vigorous training and taking workshops under the mentorship of the actress and former Miss Universe Lara Dutta, who also quoted "It has been a wonderful journey. All the girls are winners in their own right, however there can be only one winner. It was difficult for the panelists to choose that one winner from 15 divas who were all very talented and promising. The winner is very deserving and I would like to wish all the winners all the best. I am looking forward to the prestigious Miss Universe pageant and hope that we bring the crown home this year." The contestants were given trainings on -how to walk, how to dress, how to present themselves, how to carry themselves and how to face the camera.
Nationwide auditioned commenced from August 5, 2017 and went through lengths into cities like Lucknow, Kolkata, Indore, Hyderabad, Pune, Ahmedabad, Bangalore, Chandigarh and Delhi, whereas the final audition took place in Mumbai where 15 participants were chosen to compete against each other.
This year's round has been said to be bigger than ever as there were no eliminations, the tasks were more intense, the jury was better and the competition was more hardcore than ever. The show will be soon on air and is mostly to be aired on colors infinity, starting 28th October.
The entire team of All Dat Matterz congratulates the winners of the competition and wishes all the best to Miss Universe India Shraddha Shashidhar for representing India in the future Miss Universe beauty pageant this year.