1. Bhaji/Pakodas
Bhaji or Pakoras or Pakodas are a famous snack all over India. Best to have during rainy season combining with sweet jalebis.
Method
1. Cut the vegetables into small pieces. Generally raw banana, potato, brinjal and onion are made into thin slices, cauliflower is cut into bite sized florets, bread is cut diagonally to form a triangle.
2. Mix all the dry ingredients (besan, corn flour, red chilli powder, baking soda, cumin powder, turmeric powder and salt) in a bowl.
3. Add water little by little while mixing it constantly to make a smooth batter.
In the mean time heat oil for deep frying.
4. Dip the vegetables/bread/shrimp/chicken one at a time in the batter so that it is completely coated with the batter and drop in hot oil.
5. Deep fry till it becomes golden brown.
6. Drain excess oil in paper towels and serve hot with some chutney, hot sauce or ketchup.
2. Chidwa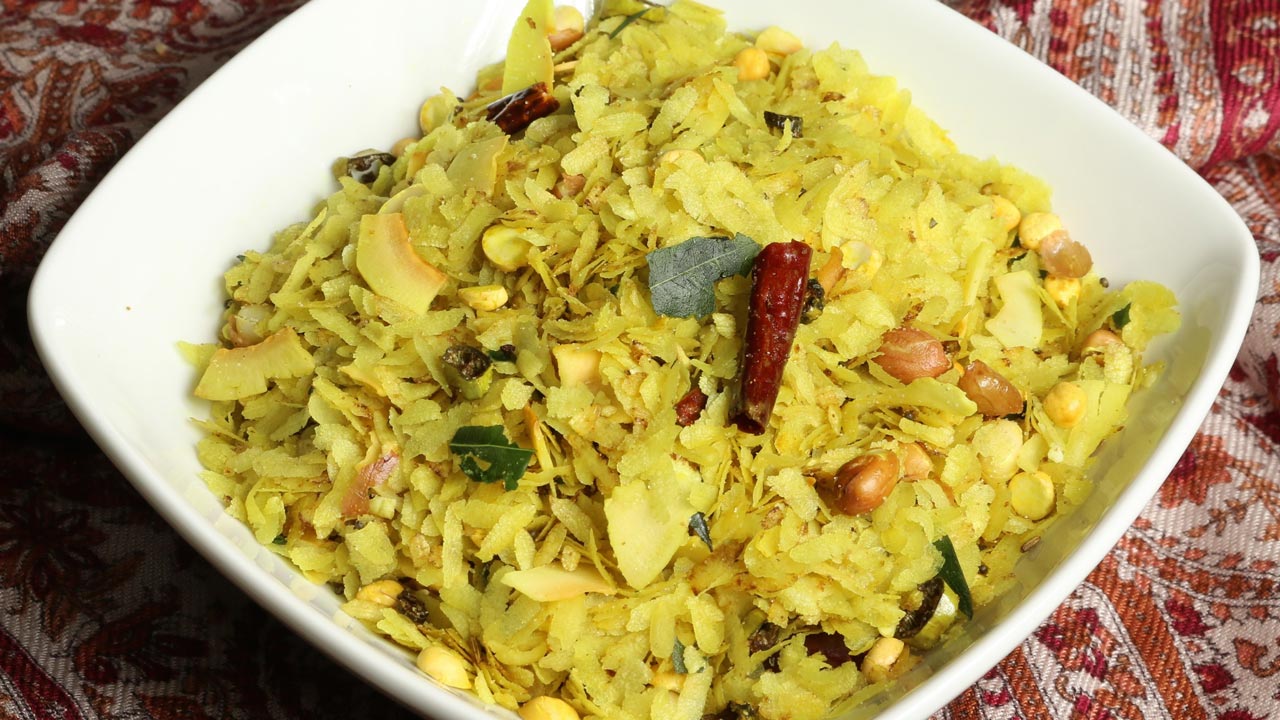 A light and healthy snack that can be had during breakfast or taken as an evening snack.
Method
1. Microwave the poha and puffed rice together in a microwave safe bowl for 2 minutes. Stir after every 30 seconds.
2. Heat oil in a pan, splutter the mustard seeds, green chillies and curry leaves.
3. Add the turmeric powder, salt and amchur powder in the oil itself.
4. Add this tadka to the poha and puffed rice mixture along with roasted peanuts, raisins, dalia and sugar.
5. Toss everything together until the turmeric powder and the salt coats the poha nicely.
6. Microwave the mixture again for another 1 minute.
7. After it cools down, you can store it in an airtight container for up to a month and enjoy as a healthy snack with tea.
3. Butter Milk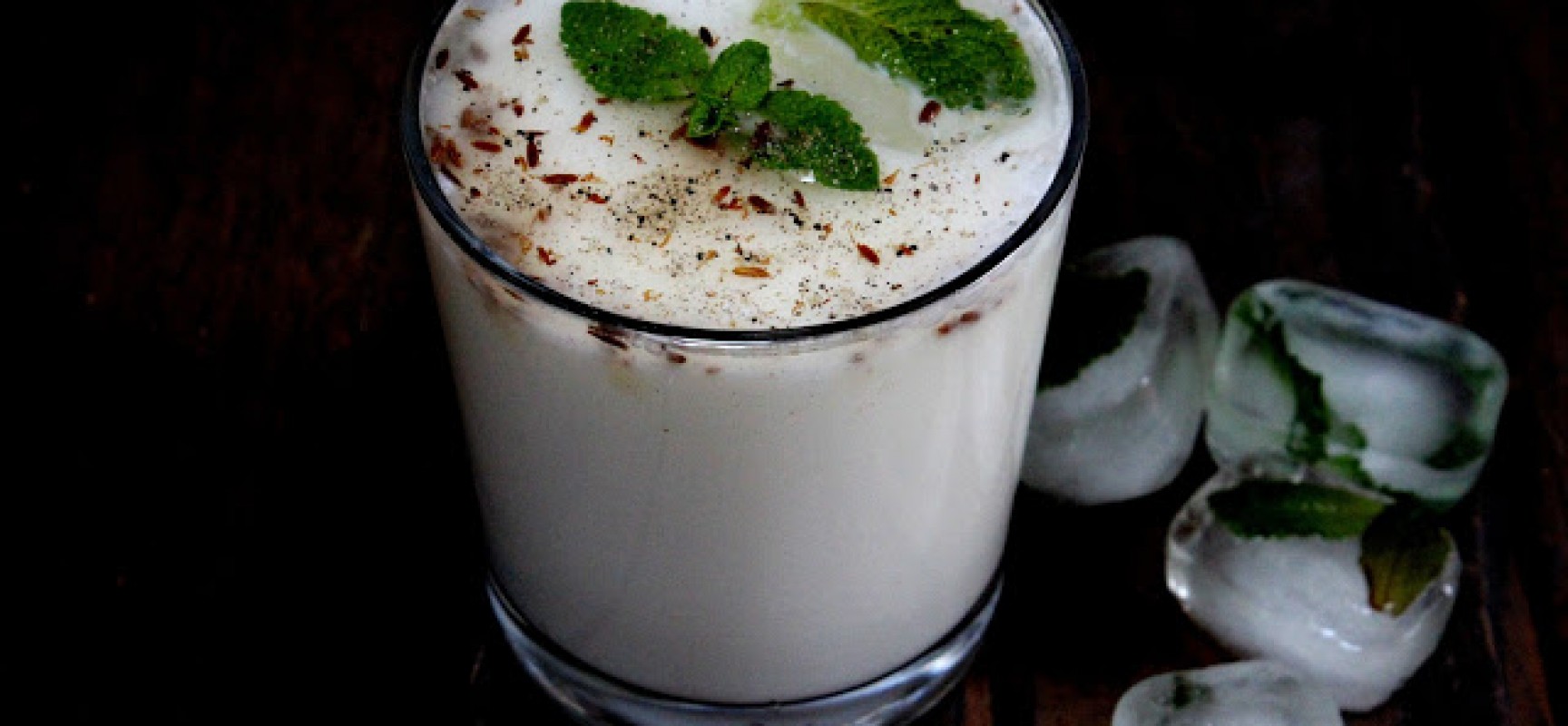 Mor (Buttermilk) is the liquid left after churning butter out of the full fat milk. It is a cool beverage to beat the summer heat. One of the very traditional recipe with buttermilk is 'spiced buttermilk'.
It can be a little heavy for the stomach hence, can be taken as a substitute to a healthy eating snack.
Method
1. Take the yogurt in a mixing bowl and whisk it.
2. Add the cold water and whisk it using a hand blender or using the traditional matthu. If you do not have both, blend it in a mixie or blender till the buttermilk becomes frothy.
3. Coarsely crush the ginger, green chili, cumin seeds and a couple of curry leaves using a mixie or mortar and pestle.
4. Add the to the buttermilk along with salt. Mix and check for seasoning. If the buttermilk is not sour enough, add few drops of lemon juice.
5. Chop the coriander leaves finely and mix in with the buttermilk.
6. Finally, heat oil in a small pan and pop the mustard seeds. Add asafetida and chopped curry leaves to the hot oil.
4. Curd Oats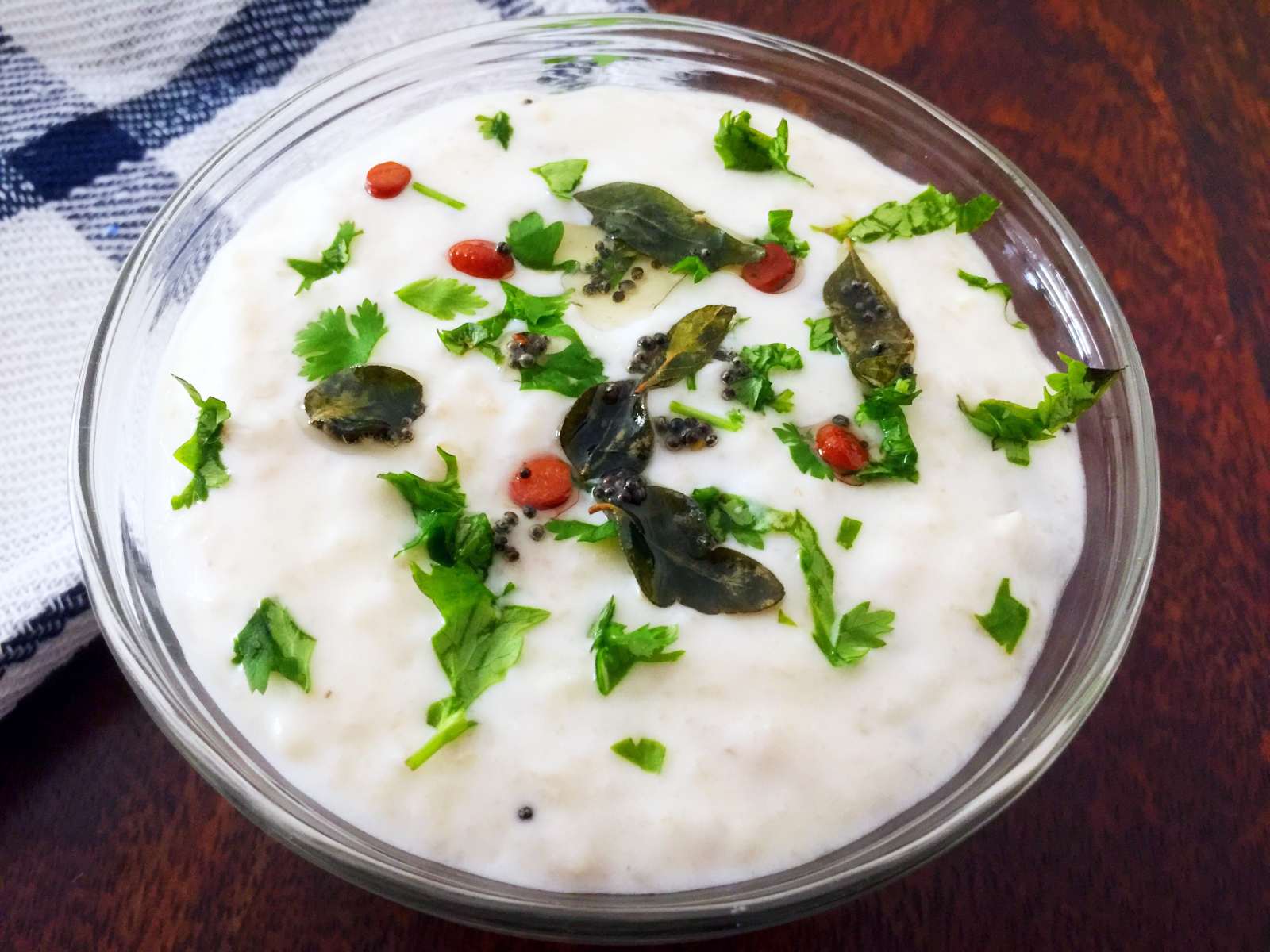 Curd (Yogurt) rice is a favorite dish for all south Indians.
Method
1. Take the oats and water in a pan and cook it for 3-4 minutes till the oats gets cooked. You can also cook it in the microwave on micro power high for 2 minutes.
2. Beat the curd and mix it with the cooked oats.
3. Heat oil in a small tempering pan. Pop the mustard seeds and urad dal. Next fry the dry red chilies and curry leaves.
4. Add finely chopped green chilies, ginger and asafoetida to the seasoning oil.
5. Add the oil to the oats-curd mix. Add required salt and finely chopped coriander leaves.
6. Mix everything and serve. You can garnish with pomegranate seeds, chopped seedless grapes, chopped cucumber, chopped raw mango pieces, grated carrot or toasted cashews.