Sunny Leone, Bollywood's gorgeous and sensual star and her business partner and husband Daniel Weber, are happy and proud parents of their daughter Nisha who was adopted from Maharashtra's Latur a few months back. Sunny recently told the news that she will tell her daughter that she is indeed adopted and does not plan to keep any secrets with their little bundle of joy.
Sunny and her husband Daniel adopted a baby girl a few months back and were very keen to do so. Initially, the couple used to visit orphanages in Mumbai and during one such visit Sunny threw this random thought of adopting a baby girl as Daniel's father always complained that the " Weber family never had a baby girl in the family!"
Daniel immediately agreed and was quiet pleased with the idea and that's how they went ahead with the adoption.
"One day, while we visited this orphanage, I just told Daniel, let's adopt a baby girl. Meine toh aise hi fenka tha (I just threw this thought to Daniel) and Daniel without an iota of thought immediately consented to my opinion. I was rather shocked but happy as well. Usually, when a wife says something, the husband may contemplate on it and may or may not agree to it. However, this was a celestial calling for us and hereafter we decided to adopt a girl child," Sunny told the media.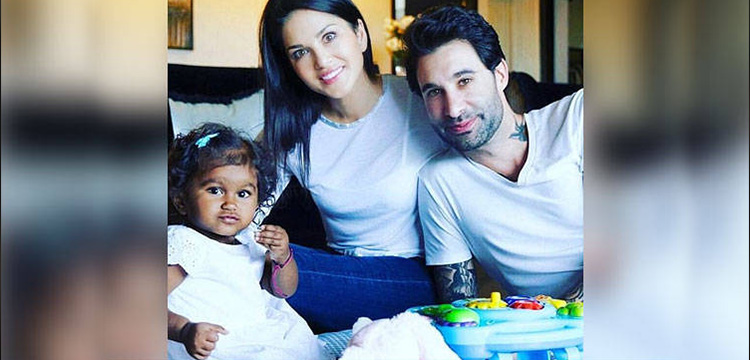 While going through the adoption process they were shown a photograph of the baby girl initially and Sunny was immediately attached to the girl and overwhelmed with the feeling of motherhood. Although it was a tough and emotional time for the duo especially Sunny as the adoption formalities were very strict and there were times when she felt "she will not get her."
On breaking the empathetic news with her daughter she says,
"Yes! Indeed we have to disclose this fact to her. Right from the adoption papers and every minute thing we have of her will be shown to her. Nisha will have to know the fact that her mother did not abandon her. She bore her for nine months. I am not her real mom. But I am connected to her soul. I am her mom after adopting her."
Sunny has been a very considerate mother to the child since the adoption. She also has an upcoming movie "Tera Intezaar" where she will be seen sharing the screen with the actor Arbaaz Khan.